InterNations Shanghai: A New Beginning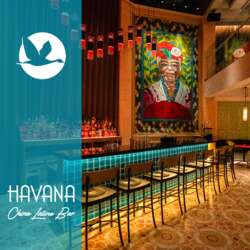 Took place 1 week 4 days ago
Havana
5F, 20 Donghu Road near Huaihai Road - 东湖路20号5楼, 近淮海中路
Shanghai
Dear Friends, a very special spring season has arrived. A lot of things have changed, we all have a new understanding of life somehow, and this is a great opportunity to enjoy life in a new way and to keep being strong while world recovers.
InterNations has been and will continue to be the place to enjoy life, the event where diversity and different points of view are celebrated every night, a place with no VIPs, just an amazing night that brings together the best people in town, and we are more than ready and happy to continue doing this.
After this difficult period, we want to celebrate this rebirth, celebrate life and meet old and new friends from all the corners of the world.
Join us on Friday 22 May at Havana, let's experience this new venue together and let's share for a few hours with the coolest people in town :)
To assure the safety of everybody, we kindly ask you to follow and respect the health check procedures (Alipay QR Code) at the entrance of the venue. If you don´t feel comfortable without a protective mask, please feel free to bring it and wear it.
Thanks to our partners for their support!
- EDUTurbo: http://www.hrturbogroup.com (A company which provides visa application, financial service. Contact Taylor via WeChat: T_Taylor222)
- BonApp: http://www.bonapp.cn
- LTL School: https://ltl-school.com (3 free hours of Chinese class, contact Johan on WeChat: perjb54)
Hope to see you all there guys!
InterNations Ambassadors Shanghai
Living the InterNations spirit - Nobody stands alone!
InterNations is constantly growing and for many guests, this will be their first event. Please be welcoming and introduce them to your friends. Live the spirit of connecting global minds to ensure that every member has a lovely time. Thanks!
InterNations provides the infrastructure to organize events; members with a special membership status ("InterNations Ambassadors") volunteer to organize events. These voluntary organizers do not represent InterNations as vicarious agents. In the case of gross negligence by the organizers, InterNations therefore does not accept any legal responsibility for resulting damages. Furthermore, neither InterNations nor the event organizers assume liability for any loss of or damage to personal property, nor shall they be held responsible in the event of financial, physical, or emotional damage. To enjoy free or reduced entry, members are advised to upgrade to Albatross Membership 24 hours prior to the event, otherwise InterNations cannot guarantee that your request will be processed in time.

This event is privately organized. You may join online with your own software account. Neither InterNations nor our Ambassadors/Consuls in their capacity as organizers of our events have any affiliation with the online meeting tool used.