InterNations Greater Middle East Online Official Event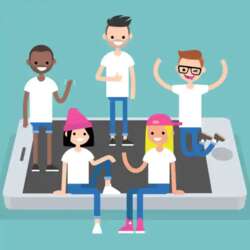 It is my utmost pleasure to invite you to InterNations's first and biggest online gathering for expats living and working within countries in The Greater Middle East Region.
This event represents our latest endeavor to bring our valued members even more closer, for with every new connection comes a new opportunity that can up your level of growth, whether financial, personal, and even spiritual.
From Casablanca to Islamabad, and throughout numerous beautiful communities within cities in between, including my home town of Erbil in Iraqi-Kurdistan, we are going to enjoy a wonderful time and set a correct example for universal unity among workers, teachers, accountants doctors, engineers, diplomats, humanitarians, journalists and other global minds. A window that will enable us to cross the current travel restrictions, connect people around the globe in hearts and souls and create the change that we all want to see.
So, prepare for an evening like no other, put your craziest wig and sunglasses on along with your favorite clothing, bring your very own loved beverage and snack, and get ready to join us on Saturday, August 15, your local time.
*** Please note that this online event is for Albatross Members only, therefore if you would like to participate, InterNations encourages you to upgrade to an Albatross Membership first. Alternatively, you can also use your free 30-day Albatross Membership trial to try it out!
*** Video Camera is required.
InterNations Ambassador Erbil
Living the InterNations spirit - Nobody stands alone!
InterNations is constantly growing and for many guests, this will be their first event. Please be welcoming and introduce them to your friends. Live the spirit of connecting global minds to ensure that every member has a lovely time. Thanks!
InterNations provides the infrastructure to organize events; members with a special membership status ("InterNations Ambassadors") volunteer to organize events. These voluntary organizers do not represent InterNations as vicarious agents. In the case of gross negligence by the organizers, InterNations therefore does not accept any legal responsibility for resulting damages. Furthermore, neither InterNations nor the event organizers assume liability for any loss of or damage to personal property, nor shall they be held responsible in the event of financial, physical, or emotional damage. To enjoy free or reduced entry, members are advised to upgrade to Albatross Membership 24 hours prior to the event, otherwise InterNations cannot guarantee that your request will be processed in time.