InterNations Bochum 13th Anniversary Event with Limited Seating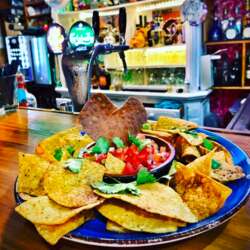 Rottstraße 34, 44793 Bochum
Bochum
---
Your health is important to us!
We are closely monitoring the COVID-19 situation in all our communities around the world, and it is now safe according to local authorities to resume in-person activities in your community. Please follow the official health guidelines in your region. We hope you stay safe and enjoy the event!
---
Our dear community,
The last few months have surely been a struggle and social distancing can be quite a challenge.
Your safety is our top priority and so we have refrained from hosting events until now.
While a certain risk clearly remains, we feel that especially our members that are new to town and may not have the option to get involved in group activities could surely use a night out - on a small scale and while remaining at a safe distance.
In order to comply with government regulations, we have placed an attendance limit and ask that you only sign up if you are sure that you are healthy, do not show any symptoms and are certain you will be able to join.
We have chosen an outside patio and ask that you adhere to the local guidelines like wearing a mask and refraining from hugging or shaking hands.
Some of you may feel uneasy about joining an event and others may feel that the attendance limit is too low. Please understand we are making an effort to bring people together in these trying times in a setting we hope to be adequate.
TequilaRia is a Mexican restaurant with delicious food and yummy frozen margaritas! What better place to celebrate InterNations turning 13?
We hope that you and your loved ones remain healthy and safe and we are sending our best wishes to all of you!
Yours,
InterNations Ambassadors Bochum
Living the InterNations spirit - Nobody stands alone!
InterNations is constantly growing and for many guests, this will be their first event. Please be welcoming and introduce them to your friends. Live the spirit of connecting global minds to ensure that every member has a lovely time. Thanks!
InterNations provides the infrastructure to organize events; members with a special membership status ("InterNations Ambassadors") volunteer to organize events. These voluntary organizers do not represent InterNations as vicarious agents. In the case of gross negligence by the organizers, InterNations therefore does not accept any legal responsibility for resulting damages. Furthermore, neither InterNations nor the event organizers assume liability for any loss of or damage to personal property, nor shall they be held responsible in the event of financial, physical, or emotional damage. To enjoy free or reduced entry, members are advised to upgrade to Albatross Membership 24 hours prior to the event, otherwise InterNations cannot guarantee that your request will be processed in time.