InterNations Seattle October Official Event | Trick or Treat?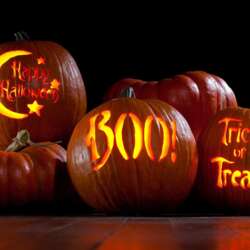 Hello dear Expats!
It's that time of year again!
Starbucks is serving pumpkin spice lattes, you are checking best pumpkin pie recipes and picking pumpkins to carve.
Hopefully you are also looking for a nice costume to wear to our monthly event. While costumes are encouraged, they are not mandatory, just come as you are and enjoy a nice evening with like-minded people from all over the Globe.
As usual we will have several breakout rooms, like Codenames game, Scary Stories and more.
We have a surprise guest for you, a Dublin-born (Ireland) world citizen having lived and worked in 8 countries, currently settled in Santiago de Chile for the last 20+ years, who works as a Founding Partner at Trinity Profits&People Ltda, helping clients to increase profitability through operational improvements and employee growth. Being a part of InterNations for 5 years, he now acts as Newcomers' Ambassador and Consul of the recently-formed (during full pandemic) Santiago Comedy Club and the Santiago Curry Club.
In addition, we will have a breakout room with a Sexual Therapist, who can provide information on how sexual health can impact your overall well-being and answer your questions on the subject.
Hope to see you all soon, although I hope you will give me a chance to try and guess who that is behind the make up or the mask ;-P.
Until then,
Adiós, Ciao, A bientôt!
InterNations Ambassadors Seattle
Living the InterNations spirit - Nobody stands alone!
InterNations is constantly growing and for many guests, this will be their first event. Please be welcoming and introduce them to your friends. Live the spirit of connecting global minds to ensure that every member has a lovely time. Thanks!
InterNations provides the infrastructure to organize events; members with a special membership status ("InterNations Ambassadors") volunteer to organize events. These voluntary organizers do not represent InterNations as vicarious agents. In the case of gross negligence by the organizers, InterNations therefore does not accept any legal responsibility for resulting damages. Furthermore, neither InterNations nor the event organizers assume liability for any loss of or damage to personal property, nor shall they be held responsible in the event of financial, physical, or emotional damage. To enjoy free or reduced entry, members are advised to upgrade to Albatross Membership 24 hours prior to the event, otherwise InterNations cannot guarantee that your request will be processed in time.