InterNations London - The Future of Global Cultural Capital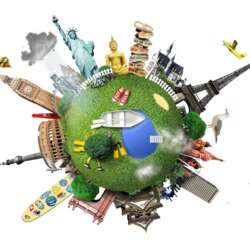 Living the international life often leads to accumulating a set of cultural assets/resources that are crucial to the pursuit of both personal and professional goals.
After the severe Corona lockdown, however, we are now operating in a profoundly transformed reality: some of the disruptive changes we are seeing in the way we go about our work and personal experiences may stay. In such a reality, how do we ensure we can still leverage our global experiences, maintain our social standing in getting work done and achieve our goals? From a company perspective, how do we make decisions about staffing, promotion and so on?
Dr. Orly Levy and Prof. Sebastian Reiche (links to bios below) are world-leading academics and experts in global mindset, social and cultural capital and their impact on outcomes such as career advancement, global mobility and firm performance.
In this interactive session you will:
# Learn what global cultural capital is and how it may affect your ability to play the career game and compete for valuable resources and opportunities
# Discuss in breakout rooms how the current scenario may be impacting you and the value of your cultural resources
# Have the opportunity to contribute to the advancement of current knowledge on the future of global cultural capital given a potentially shifting stance toward globalizations.
Orly Levy: https://www.soas.ac.uk/staff/staff1 …
Sebastian Reiche: https://www.iese.edu/faculty-resear …
InterNations Ambassadors London
Living the InterNations spirit - Nobody stands alone!
InterNations is constantly growing and for many guests, this will be their first event. Please be welcoming and introduce them to your friends. Live the spirit of connecting global minds to ensure that every member has a lovely time. Thanks!
InterNations provides the infrastructure to organize events; members with a special membership status ("InterNations Ambassadors") volunteer to organize events. These voluntary organizers do not represent InterNations as vicarious agents. In the case of gross negligence by the organizers, InterNations therefore does not accept any legal responsibility for resulting damages. Furthermore, neither InterNations nor the event organizers assume liability for any loss of or damage to personal property, nor shall they be held responsible in the event of financial, physical, or emotional damage. To enjoy free or reduced entry, members are advised to upgrade to Albatross Membership 24 hours prior to the event, otherwise InterNations cannot guarantee that your request will be processed in time.