InterNations Chiang Mai October Event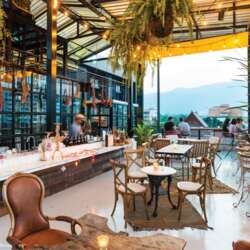 Took place 4 weeks 2 days ago
17/5 ถนน สายน้ำผึ้ง อำเภอ เมืองเชียงใหม่ Chiang Mai 50200, Thailand
Chiang Mai
---
Your health is important to us!
We are closely monitoring the COVID-19 situation in all our communities around the world, and it is now safe according to local authorities to resume in-person activities in your community. Please follow the official health guidelines in your region. We hope you stay safe and enjoy the event!
---
We are happy to invite you to our InterNations Chiang Mai October Event!
The event will take place at Hotel YaYee on Friday, October 30, 2020, from 19:00 until 23:00. The venue is located on the 5th floor of the trendy hotel, in the central Nimmanhemin area.
Kindly confirm your presence by clicking the Accept Invitation button. Feel free to bring your international friends, but please invite them to sign up to InterNations first!
Live the InterNations spirit – Nobody stands alone!
For many guests, it'll be the first InterNations event; quite a few arrive on their own. Please be open to making them feel welcome. If you see someone standing alone, it'd be great if you introduced them to your friends. We can thus share the spirit of connecting global minds, and every member will have a lovely time. Thanks!
Looking forward to seeing you,
InterNations Ambassador Chiang Mai
Living the InterNations spirit - Nobody stands alone!
InterNations is constantly growing and for many guests, this will be their first event. Please be welcoming and introduce them to your friends. Live the spirit of connecting global minds to ensure that every member has a lovely time. Thanks!
InterNations provides the infrastructure to organize events; members with a special membership status ("InterNations Ambassadors") volunteer to organize events. These voluntary organizers do not represent InterNations as vicarious agents. In the case of gross negligence by the organizers, InterNations therefore does not accept any legal responsibility for resulting damages. Furthermore, neither InterNations nor the event organizers assume liability for any loss of or damage to personal property, nor shall they be held responsible in the event of financial, physical, or emotional damage. To enjoy free or reduced entry, members are advised to upgrade to Albatross Membership 24 hours prior to the event, otherwise InterNations cannot guarantee that your request will be processed in time.