Just Ask - Why Seeking Support Is Your Biggest Strength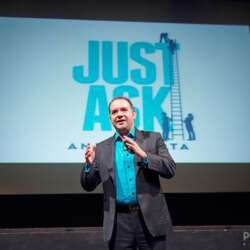 The highest achievers reach the top with the help of their networks: they know their strengths but also their weaknesses and when to ask for help. Yet, there is still a great deal of reticence to open up to our contacts – although the culture is changing and people are increasingly recognising the power of sharing.
Our special guest, author and expert Andy Lopata (see BIO below), has interviewed several senior executives, stars, outstanding individuals from a range of sectors to explore how vulnerability and openness have impacted their journey, culminating in his latest book "Just Ask": http://www.andylopata.com/justask
In this talk, Andy will share some of the powerful stories and lessons that came out of his research. Some of the questions he tackles:
# Can a modern leader show vulnerability and still shine?
# what changes in mindset are needed to untap the power of your network?
# How can we develop strong, trust-based networks and gain support?
We look forward to welcoming you for a special Thursday evening
BIO: An expert in professional relationship strategy, Andy Lopata was called "One of Europe's leading business networking strategist" by the Financial Times, "A true master of networking" by The Independent and Forbes. Andy is Fellows Community Director on the Board of the Professional Speaking Association. He speaks globally and is regularly quoted in the International Press. Clients have included BBC, Wembley Stadium, HSBC Securities, Wella and GlaxoSmithKline
InterNations Ambassadors London
Living the InterNations spirit - Nobody stands alone!
InterNations is constantly growing and for many guests, this will be their first event. Please be welcoming and introduce them to your friends. Live the spirit of connecting global minds to ensure that every member has a lovely time. Thanks!
InterNations provides the infrastructure to organize events; members with a special membership status ("InterNations Ambassadors") volunteer to organize events. These voluntary organizers do not represent InterNations as vicarious agents. In the case of gross negligence by the organizers, InterNations therefore does not accept any legal responsibility for resulting damages. Furthermore, neither InterNations nor the event organizers assume liability for any loss of or damage to personal property, nor shall they be held responsible in the event of financial, physical, or emotional damage. To enjoy free or reduced entry, members are advised to upgrade to Albatross Membership 24 hours prior to the event, otherwise InterNations cannot guarantee that your request will be processed in time.