InterNations Chicago Official Event - Virtual Wine Tasting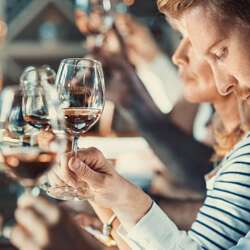 Hello InterNations friends,
Do you have a love affair with wine? If you are like me, describing your favorite wine is akin to describing a love affair.
I am excited to host a virtual wine tasting event. Bring your favorite bottle of wine and share your best description (don't worry, we are all amateurs). What do you like about it? Does it trigger emotions for you? Does it take you back to a special time in life? What food does it pair well with?
I will bring a few bottles to kick things off and then turn it over fellow members. Bring a notepad and you can make a list of things to add to your wine collection.
I'll take a poll after the event - best description wins a $20 gift certificate.
I look forward to seeing you at the event - Nathan
InterNations Ambassadors Chicago
Living the InterNations spirit - Nobody stands alone!
InterNations is constantly growing and for many guests, this will be their first event. Please be welcoming and introduce them to your friends. Live the spirit of connecting global minds to ensure that every member has a lovely time. Thanks!
InterNations provides the infrastructure to organize events; members with a special membership status ("InterNations Ambassadors") volunteer to organize events. These voluntary organizers do not represent InterNations as vicarious agents. In the case of gross negligence by the organizers, InterNations therefore does not accept any legal responsibility for resulting damages. Furthermore, neither InterNations nor the event organizers assume liability for any loss of or damage to personal property, nor shall they be held responsible in the event of financial, physical, or emotional damage. To enjoy free or reduced entry, members are advised to upgrade to Albatross Membership 24 hours prior to the event, otherwise InterNations cannot guarantee that your request will be processed in time.