Skills & Crafts - Learn to Draw Mandala With Hritika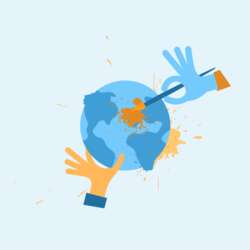 Lets learn and draw Mandala to express our inner selves.
What is Mandala?
The mandala is a centering space for the self and the soul an art therapy tool for making order out of disorder. Mandala is a Sanskrit word for "magic circle". Nearly every culture uses mandalas or circular image in their cultural or spiritual practices.
A mandala represents wholeness, a cosmic diagram reminding us of our relation to infinity, extending beyond and within our bodies and minds. Mandalas are circular designs symbolizing the notion that life is never ending.
Why create a Mandala?
Art making is an essential practice that can support our positivity and sense of well being, expand our awareness open ourselves to kindness and self-compassion, and deepen our connection to ourselves and others.
Things required to create Mandala is
1) Plain paper/sheet
2) Pen
3) Compass
4) Color pens or sharpes or sketch pens
Look forward to meet you soon
InterNations Ambassador Online
Living the InterNations spirit - Nobody stands alone!
InterNations is constantly growing and for many guests, this will be their first event. Please be welcoming and introduce them to your friends. Live the spirit of connecting global minds to ensure that every member has a lovely time. Thanks!
InterNations provides the infrastructure to organize events; members with a special membership status ("InterNations Ambassadors") volunteer to organize events. These voluntary organizers do not represent InterNations as vicarious agents. In the case of gross negligence by the organizers, InterNations therefore does not accept any legal responsibility for resulting damages. Furthermore, neither InterNations nor the event organizers assume liability for any loss of or damage to personal property, nor shall they be held responsible in the event of financial, physical, or emotional damage. To enjoy free or reduced entry, members are advised to upgrade to Albatross Membership 24 hours prior to the event, otherwise InterNations cannot guarantee that your request will be processed in time.