InterNations Shenzhen First Winter Event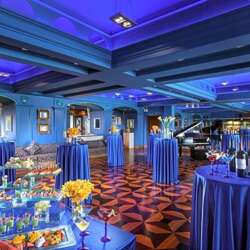 9026 Shennan Rd., Nanshan District - 地址: 广东省深圳市南山区深南大道9026号 邮编: 518053
Shenzhen
---
Your health is important to us!
We are closely monitoring the COVID-19 situation in all our communities around the world and, according to local authorities, certain in-person activities are permitted in your community. Please make sure to follow the latest official health guidelines and restrictions in your area. We hope you stay safe and enjoy the event!
---
Let's get together for the first winter official event in Shenzhen of 2020! We are teaming up together again with The Venice Hotel in Window of the World. Meet people from all parts of the world along with nice mixed drinks, beer or wine on special rates for InterNations.
Join us for a classy evening in Blue Restaurant on the third floor at The Venice Hotel on 12 December at 18:00! We look forward to catching up with you over one of our signature GinTonic!
A special thanks to our sponsors who will be providing prizes for the lucky draw:
- SunnyHouse http://www.sunnyhouseshenzhen.com (Your relocation consultant, residential services in Shenzhen. Contact via WeChat: SZSunnyHouse)
- ExoticWinds http://www.bodegasexoticwinds.com (Spanish wine partner. Order your wine via WeChat: +86 13316814432)
- TangoArgentino (Tango School in Shenzhen. Book your classes via Wechat: PabloTango)
- Walky-Talky (The Walkers Community. Contact organizer of weekly outdoor activities via Wechat: Bearinbambea)
- BonApp! China's most comprehensive English-language platform for discovering restaurants, bars, hotels and more. Available in mobile app stores and at bonapp.net.
InterNations Ambassadors Shenzhen
Living the InterNations spirit - Nobody stands alone!
InterNations is constantly growing and for many guests, this will be their first event. Please be welcoming and introduce them to your friends. Live the spirit of connecting global minds to ensure that every member has a lovely time. Thanks!
InterNations provides the infrastructure to organize events; members with a special membership status ("InterNations Ambassadors") volunteer to organize events. These voluntary organizers do not represent InterNations as vicarious agents. In the case of gross negligence by the organizers, InterNations therefore does not accept any legal responsibility for resulting damages. Furthermore, neither InterNations nor the event organizers assume liability for any loss of or damage to personal property, nor shall they be held responsible in the event of financial, physical, or emotional damage. To enjoy free or reduced entry, members are advised to upgrade to Albatross Membership 24 hours prior to the event, otherwise InterNations cannot guarantee that your request will be processed in time.