InterNations Rotterdam Kick Start The Year with Peer Support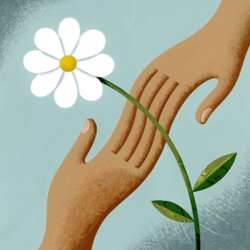 Let's kick start the new year with some TLC of peer support.
This event is the briefing/ info session. Join us from wherever you are.
The sense of isolation and loneliness has been a present theme among the lot of us.
You long to connect with likeminded people who understand that your expat life is not a ride in a pony park.
You want to take charge of your wellbeing, realise your goals, and grow your support system.
A community goes a long way. To know that you are not alone in this. To empower each other. By listening to and reflecting with each other.
If this sounds like you, read on!
DO YOU SAY YES TO...?
* Helping each other. Healing yourself. Growing together.
* Learning practical life skills, eg. communication, expressing what you feel, offering & receiving support, boundaries
* Possibly meeting your friends for life!
Sign up now and let's strengthen ourself and our community.
STRUCTURE OF THE PEER SUPPORT GROUP
* Monthly briefing (such as this event!)
We gather for live training and set up the clusters (of 3-4 people) with the participants present.
* Weekly check-in with your cluster (self-led)
You self-organise the meeting. Don't worry, I'll provide you with structure and guidelines.
* Ask your question, share your challenge, and receive feedback from me or other community members.
This briefing is super important, you might be turned down if you show up late. Video ON is required.
InterNations Ambassador Rotterdam
Living the InterNations spirit - Nobody stands alone!
InterNations is constantly growing and for many guests, this will be their first event. Please be welcoming and introduce them to your friends. Live the spirit of connecting global minds to ensure that every member has a lovely time. Thanks!
InterNations provides the infrastructure to organize events; members with a special membership status ("InterNations Ambassadors") volunteer to organize events. These voluntary organizers do not represent InterNations as vicarious agents. In the case of gross negligence by the organizers, InterNations therefore does not accept any legal responsibility for resulting damages. Furthermore, neither InterNations nor the event organizers assume liability for any loss of or damage to personal property, nor shall they be held responsible in the event of financial, physical, or emotional damage. To enjoy free or reduced entry, members are advised to upgrade to Albatross Membership 24 hours prior to the event, otherwise InterNations cannot guarantee that your request will be processed in time.