InterNations Guangzhou - Welcome to Russia @ Katusha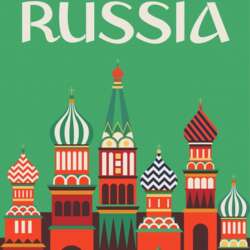 Katusha Russian Cuisine
1/F, Binghua Hotel, No.2 Tianhe North Road, Tianhe District, Guangzhou 510000 China
Guangzhou
---
Your health is important to us!
We are closely monitoring the COVID-19 situation in all our communities around the world and, according to local authorities, certain in-person activities are permitted in your community. Please make sure to follow the latest official health guidelines and restrictions in your area. We hope you stay safe and enjoy the event!
---
Russia is a culturally rich country with the largest territory in the world, so let's get together at "InterNations' Welcome to Russia" and enjoy Saturday night having a delicious dinner and mingling with other expats at Katusha.
The chef Ekaterina Arsakova dreamt of opening her own restaurant and provide quality Russian dishes to her customers. It has been almost 15 years since she opened Katusha in Guangzhou and it is a reference amongst the Russian community and those who appreciate Russian cuisine. For this event, she created a special menu which comprises a diverse set of traditional Russian dishes:
Appetizers
Profiteroles with salmon and cheese Canapes
Olivie (Russian salad)
Vinegret (Beetroot salad)
Soleniya (Pickles plate)
Pirozhki s kapustoi (Pies with cabbage)
Main
Farshirovannye percy (Beef n' Peppers)
Shaslyk iz kuricy (Chicken BBQ)
Pelmeni s riboi (Fish dumplings)
Zapechennye ovoshchi (Baked vegetables)
Event Specials:
✔ 3 hours free flow (Beer and non alcoholic)
✔ 4 Glasses of red/white wine offered by our sponsor FuchS Winery and Katusha
✔ Traditional Russian dinner
✔ Live Music
✔ Professional Photographer
✔ Quiz Game (Awesome Prizes)
✔ Exclusive area
✔ Gifts to each guest
*Please note*
✔ Welcome desk will be closed at 21:00, please arrive before then
✔ Payment at door with cash, WeChat Pay or Alipay
✔ Guest list will be closed 2 hours before the event starts!
Everyone is welcome! Feel free to join the event even if you missed the sign-up deadline.
InterNations Ambassadors Guangzhou
Living the InterNations spirit - Nobody stands alone!
InterNations is constantly growing and for many guests, this will be their first event. Please be welcoming and introduce them to your friends. Live the spirit of connecting global minds to ensure that every member has a lovely time. Thanks!
InterNations provides the infrastructure to organize events; members with a special membership status ("InterNations Ambassadors") volunteer to organize events. These voluntary organizers do not represent InterNations as vicarious agents. In the case of gross negligence by the organizers, InterNations therefore does not accept any legal responsibility for resulting damages. Furthermore, neither InterNations nor the event organizers assume liability for any loss of or damage to personal property, nor shall they be held responsible in the event of financial, physical, or emotional damage. To enjoy free or reduced entry, members are advised to upgrade to Albatross Membership 24 hours prior to the event, otherwise InterNations cannot guarantee that your request will be processed in time.