InterNations City Bridge - Moscow>London>Zurich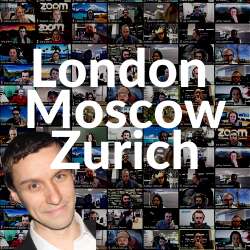 Dear all,
Warmly welcome to a SPECIAL Moscow-London-Zurich CITY BRIDGE EVENT. Co-hosted by the Ambassadors in 3 of the world's most exciting cities!
CONCEPT is easy and fun:
Want to socialise? Meet business contacts? Meet new friends for travel? Then join us!
- We continue with Speed Socializing Online Mini-Groups (4-5 people)
- And we're bringing London & Moscow Expats closer
- We are adding dedicated Topic Groups: Business & Travel
- You will freely jump between your preferred groups
- Each time you have 6-7 minutes for quick chat & conversations
- Each time after chat sessions auto-expire, we mix you into a new Mini Group
And so on... Evening of fun!
MOTTO: Meet Virtually - to later meet Live
There will be Mini Groups with chat topics to keep you interested:
Room 1 & 2 : Travel & Business
Rooms 3-4-5-etc: Socialising
START:
19:00 London Local Time
20:00 Zurich Local Time
22:00 Moscow Local Time
Pick your room yourself.
Or lean back, relax, and computer will mix & match you.
💯 We guarantee you'll meet lots of new people.
- Late? No worries, whenever you join, we'll include you
- Welcome Room: stay here if you just want to listen
- Private Chats: exchange private contacts for afterwards
ZOOM LINK:
Appears on the Event Page 60 minutes before start.
We look forward to seeing you all soon online with us - just click to join!
InterNations Ambassadors Moscow
Living the InterNations spirit - Nobody stands alone!
InterNations is constantly growing and for many guests, this will be their first event. Please be welcoming and introduce them to your friends. Live the spirit of connecting global minds to ensure that every member has a lovely time. Thanks!
InterNations provides the infrastructure to organize events; members with a special membership status ("InterNations Ambassadors") volunteer to organize events. These voluntary organizers do not represent InterNations as vicarious agents. In the case of gross negligence by the organizers, InterNations therefore does not accept any legal responsibility for resulting damages. Furthermore, neither InterNations nor the event organizers assume liability for any loss of or damage to personal property, nor shall they be held responsible in the event of financial, physical, or emotional damage. To enjoy free or reduced entry, members are advised to upgrade to Albatross Membership 24 hours prior to the event, otherwise InterNations cannot guarantee that your request will be processed in time.