InterNations Wellington Kicking Off 2021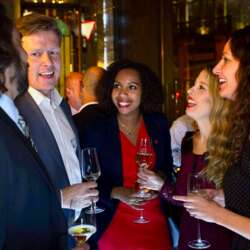 39 Abel Smith Street
Wellington
---
Your health is important to us!
We are closely monitoring the COVID-19 situation in all our communities around the world and, according to local authorities, certain in-person activities are permitted in your community. Please make sure to follow the latest official health guidelines and restrictions in your area. We hope you stay safe and enjoy the event!
---
Attention Wellington Community...
The first monthly event of 2021 is here. To celebrate and look forward to a prosperous and happy year, we've organised a more interactive and fun event for everyone! 🥳
Join us in "The Guest Room" at Southern Cross Restaurant, known for their yummy snacks and drinks. Plus, they have kindly offered us complimentary finger food. (Yay!) Of course, you may also purchase additional food.
Celebrating in style: You're encouraged to dress up formally — show the world you're ready to take on new challenges head-on. Who knows, you might even win a prize. (Hint hint 😉)
We will (sadly) be bidding farewell to our long-time ambassador, Zhanna, and wishing her the best for pursuing her goals and aspirations.
Do share with your friends and grow the spirit of global citizenship. 🌏
Tentative Plan:
6:30pm - Welcome
6:45pm - Fun Icebreaker Activity: Random Fun Fact About Yourself
7:00pm - Farewell Zhanna
7:30pm - Mix and Mingle
Looking forward to a fun and engaging evening together. Feel free to ask any questions you might have!
PS: RSVP soon so we can confirm the numbers with the venue.
InterNations Ambassadors Wellington
Living the InterNations spirit - Nobody stands alone!
InterNations is constantly growing and for many guests, this will be their first event. Please be welcoming and introduce them to your friends. Live the spirit of connecting global minds to ensure that every member has a lovely time. Thanks!
InterNations provides the infrastructure to organize events; members with a special membership status ("InterNations Ambassadors") volunteer to organize events. These voluntary organizers do not represent InterNations as vicarious agents. In the case of gross negligence by the organizers, InterNations therefore does not accept any legal responsibility for resulting damages. Furthermore, neither InterNations nor the event organizers assume liability for any loss of or damage to personal property, nor shall they be held responsible in the event of financial, physical, or emotional damage. To enjoy free or reduced entry, members are advised to upgrade to Albatross Membership 24 hours prior to the event, otherwise InterNations cannot guarantee that your request will be processed in time.