InterNations Shenzhen January Social Mixer #2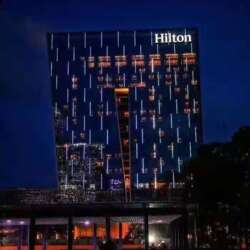 1003, Shennan Avenue, BLock B, Gangsha, Futian District, Shenzhen, China - 深圳市福田区岗厦
Shenzen
---
Your health is important to us!
We are closely monitoring the COVID-19 situation in all our communities around the world and, according to local authorities, certain in-person activities are permitted in your community. Please make sure to follow the latest official health guidelines and restrictions in your area. We hope you stay safe and enjoy the event!
---
Our next InterNations Official Social Mixer will be held at the SZ Futian Hilton Hotel on January 30, 2021 from 19:00. Join us for a fun and relaxed evening of drinks, snacks, and wine at the Hilton Futian. This will be our last event before Chinese New Year, so make sure you come out to see your InterNations friends for the last time in the Year of the Rat (and get excited for the year of the Ox!)
***
Owing to the requirements of the venue, we will be enforcing RSVPs. Confirm attendance in advance for member pricing.
Smart attire required.
***
Welcome Drink Options:
Beer (Tsingtao)
Pina Colada
Red Wine (Caliterra Aventura Cab Sauv)
White Wine (Caliterra Aventura Chardonnay)
Non-alcoholic Cocktail
***
Pass-around Snack Service: (appetizer size/finger foods only, NOT intended as a full dinner)
Mini tuna sandwiches
Parma ham with honeydew
Assorted nuts
Assorted vegetable strips
***
Special Price Dinner Options:
Club sandwich - 88 RMB
Chicken wings - 78 RMB
Truffle french fries - 68 RMB
Smoked chicken breast salad - 68 RMB
Seasonal vegetables - 58 RMB
Cream of mushroom soup - 58 RMB
***
Happy Hour Drinks Menu:
Pina Colada - 50 RMB
Red Wine - 50 RMB
White Wine - 50 RMB
Non-alcoholic Cocktail - 50 RMB
Tsingtao - 30 RMB
Soft Drinks - 20 RMB
***
Special Thanks to Our Sponsors!
For lucky draw, prizes will be raffled off from our sponsors Sunnyhouse (real estate), F45 (fitness center), Zhierge Honey, Hanover Coffee, Bon App and Alma LaChina (latin dance).
InterNations Ambassadors Shenzhen
Living the InterNations spirit - Nobody stands alone!
InterNations is constantly growing and for many guests, this will be their first event. Please be welcoming and introduce them to your friends. Live the spirit of connecting global minds to ensure that every member has a lovely time. Thanks!
InterNations provides the infrastructure to organize events; members with a special membership status ("InterNations Ambassadors") volunteer to organize events. These voluntary organizers do not represent InterNations as vicarious agents. In the case of gross negligence by the organizers, InterNations therefore does not accept any legal responsibility for resulting damages. Furthermore, neither InterNations nor the event organizers assume liability for any loss of or damage to personal property, nor shall they be held responsible in the event of financial, physical, or emotional damage. To enjoy free or reduced entry, members are advised to upgrade to Albatross Membership 24 hours prior to the event, otherwise InterNations cannot guarantee that your request will be processed in time.