InterNations Palm Beach - 1st 2021 Event! - Join us!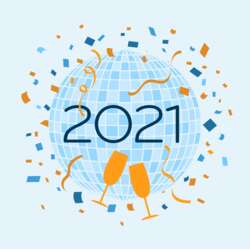 We invite you to "Zoom in" for our first event of 2021 and chat/connect with our local Palm Beach USA community friends and InterNations friends around the world.
This event will be cross-featured on the InterNations website with other communities in the USA, Latin America and around the world, so we are looking forward to connecting with new friends - virtually!
Please join us - and with a glass of your favorite drink (coffee & tea are OK too!), we will toast in the languages of the world - "Cheers", "Salud", "Santé", "Prost", "Cin Cin", "Gān Bēi", "Kanpai", "Na zdorovie", "Saúde", "Sei gesund", "Yamas", "Sláinte", and many more!!
Wherever you are in the world - you are most welcome!
Important - check for an e-mail from InterNations 15 minutes before the event starts, and click on the Zoom link to access this virtual event. You can also go this event's details in the InterNations website and click on the Zoom link.
We look forward to "seeing" you!
InterNations Ambassadors Palm Beach
Living the InterNations spirit - Nobody stands alone!
InterNations is constantly growing and for many guests, this will be their first event. Please be welcoming and introduce them to your friends. Live the spirit of connecting global minds to ensure that every member has a lovely time. Thanks!
InterNations provides the infrastructure to organize events; members with a special membership status ("InterNations Ambassadors") volunteer to organize events. These voluntary organizers do not represent InterNations as vicarious agents. In the case of gross negligence by the organizers, InterNations therefore does not accept any legal responsibility for resulting damages. Furthermore, neither InterNations nor the event organizers assume liability for any loss of or damage to personal property, nor shall they be held responsible in the event of financial, physical, or emotional damage. To enjoy free or reduced entry, members are advised to upgrade to Albatross Membership 24 hours prior to the event, otherwise InterNations cannot guarantee that your request will be processed in time.