InterNations Tianjin - My Journey of Colors: Meet the Artist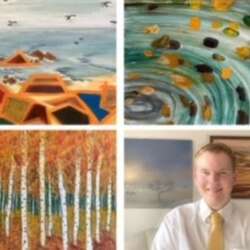 Took place 1 week 3 days ago
Tianjin Art Gallery
Hexi District, Tianjin, Tianjin, China
Tianjin
---
Your health is important to us!
We are closely monitoring the COVID-19 situation in all our communities around the world and, according to local authorities, certain in-person activities are permitted in your community. Please make sure to follow the latest official health guidelines and restrictions in your area. We hope you stay safe and enjoy the event!
---
Elias Shumway, 19, is a young artist who lives in Tianjin and happens to have autism. He is originally from the United States. Elas lived in Doha, Qatar for five years, and was selected to be in four exhibits there. He had his own solo show in 2019 at the prestigious Fire Station Museum in Doha. He has also exhibited and spoken about art and autism in France and the United States. His paintings hang in many countries all over the world. In 2020 a video called My Journey of Colors was made about his experience of painting and teaching, it has achieved wide acclaim and was translated into Chinese. Along with his mother, he teaches at two schools here in Tianjin for children and young adults with autism. He and his mother have created a non-profit foundation that is called#Art4Every1. It promotes helping people with art who have a faint voice--those with disabilities and live in poverty. Elias studies at the Miico Art Land School in Tianjin.
We will meet in the lobby of the museum at 13:45.
See you all there!
InterNations Ambassador Tianjin
Living the InterNations spirit - Nobody stands alone!
InterNations is constantly growing and for many guests, this will be their first event. Please be welcoming and introduce them to your friends. Live the spirit of connecting global minds to ensure that every member has a lovely time. Thanks!
InterNations provides the infrastructure to organize events; members with a special membership status ("InterNations Ambassadors") volunteer to organize events. These voluntary organizers do not represent InterNations as vicarious agents. In the case of gross negligence by the organizers, InterNations therefore does not accept any legal responsibility for resulting damages. Furthermore, neither InterNations nor the event organizers assume liability for any loss of or damage to personal property, nor shall they be held responsible in the event of financial, physical, or emotional damage. To enjoy free or reduced entry, members are advised to upgrade to Albatross Membership 24 hours prior to the event, otherwise InterNations cannot guarantee that your request will be processed in time.