InterNations Milan Expat IN PERSON Brunch with Live Music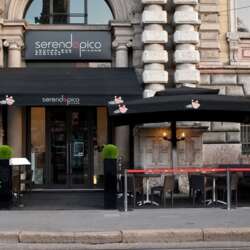 ---
Your health is important to us!
We are closely monitoring the COVID-19 situation in all our communities around the world and, according to local authorities, certain in-person activities are permitted in your community. Please make sure to follow the latest official health guidelines and restrictions in your area. We hope you stay safe and enjoy the event!
---
We are delighted to invite you, your friends and your partners to the SPECIAL edition official EXPAT Brunch.
We have a menu of EUR:50,- which includes a nice brunch including wine and the opportunity to meet and get introduced to like-minded expats.
Do you have some food restrictions or like to have a vegetarian or vegan menu it's possible to just update Lianne beforehand.
We live in challenging times with lots of change.
We do firmly believe in the huge importance of our mental health of being social in a responsible way.
Below some common-sense safety measures:
- You are kindly requested to maintain a healthy distance enter the place with your mask.
- Avoid greeting with the usual 2 kisses or handshake. Just a wave or elbow greeting will do for now :)
Mandatory: THIS EVENT IS FOR EXPATS ONLY!!! Your expat friends are welcome, but please invite them to sign up on InterNations or send a mail with their names to Lianne.
InterNations Ambassadors Milan
Living the InterNations spirit - Nobody stands alone!
InterNations is constantly growing and for many guests, this will be their first event. Please be welcoming and introduce them to your friends. Live the spirit of connecting global minds to ensure that every member has a lovely time. Thanks!
InterNations provides the infrastructure to organize events; members with a special membership status ("InterNations Ambassadors") volunteer to organize events. These voluntary organizers do not represent InterNations as vicarious agents. In the case of gross negligence by the organizers, InterNations therefore does not accept any legal responsibility for resulting damages. Furthermore, neither InterNations nor the event organizers assume liability for any loss of or damage to personal property, nor shall they be held responsible in the event of financial, physical, or emotional damage. To enjoy free or reduced entry, members are advised to upgrade to Albatross Membership 24 hours prior to the event, otherwise InterNations cannot guarantee that your request will be processed in time.