InterNations Luanda Online Happy Hour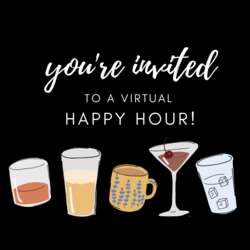 After work Drink...a ...zoom
Hey guys
Unfortunately, COVID-19 is still here, with all its restrictions, and it's probably not going away for some time .
Because of this unpredictability, i has been difficult to plan traditonal events for some time . However, it doesn't mean that events aren't possible.
We just have to be creative ,sassy, as the great Luanda internations community that we are .
We miss you all and would love to reconnect.
Let's have our first ever zoom after work drinks 🍸
The rules:
Number of guests 10-25 people
2 moderators
Have zoom and whatsap available
Have a drink in hand (alcoholic or not). Picture of yourself with your drink, or your drinks table is mandatory to send to your hosts and share with the group .
Tip. Be creative and set up a cute drinks table, create your drink and share the recipe with the rest of the group etc .
Have pen and paper In hand , as we may or may not play interactive games (depending on time).
Muhammed and Janet absolutely look forward to connecting with u .
Zoom....ya ..soon 😘
Muhammed Jalloh & Janet Chaves
InterNations Ambassadors Luanda
InterNations Ambassadors Luanda
Living the InterNations spirit - Nobody stands alone!
InterNations is constantly growing and for many guests, this will be their first event. Please be welcoming and introduce them to your friends. Live the spirit of connecting global minds to ensure that every member has a lovely time. Thanks!
InterNations provides the infrastructure to organize events; members with a special membership status ("InterNations Ambassadors") volunteer to organize events. These voluntary organizers do not represent InterNations as vicarious agents. In the case of gross negligence by the organizers, InterNations therefore does not accept any legal responsibility for resulting damages. Furthermore, neither InterNations nor the event organizers assume liability for any loss of or damage to personal property, nor shall they be held responsible in the event of financial, physical, or emotional damage. To enjoy free or reduced entry, members are advised to upgrade to Albatross Membership 24 hours prior to the event, otherwise InterNations cannot guarantee that your request will be processed in time.