InterNations Breda Farewell X-Mas Party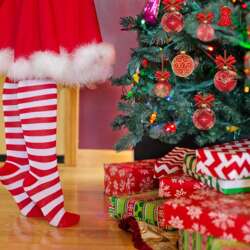 Are you that X-Mas person everybody knows & adores? Do you decorate your tree and your home before everyone else & collect at last? Do cinnamon cookie and hot coco smells welcome us if we step in your kitchen? Do you have your X-Mas pajamas or even good old X-Mas sweats in your wardrobe ready to unfold? How many X-Mas all time hits in your archive?
So, this event will definitely be for you. Your X-Mas dinner yummies will not be ready yet but you can still have some early celebration. So why wait , we can celebrate an extra early night under the magical lights of our X-Mas trees. Grab your eggnogs, cinnamon & gingerman cookies, Santa chocolates or just a glass of wine or a coffee . At the end it is all about with who & how you share your X-Mas spirit , we do not need anything extra.
We would like to give you an early X-Mas gift with a X-Mas Theme Party. We will have non-stop all time best X-Mas videos during the night to sing & dance together and for our dear friends who would like to give a break or socialise, do not worry we will have b/o rooms for you as well.
Just grab your favourite food & drinks and join us on our LAST official online event.
As we say every year; KEEP CALM & KEEP HO HO HO ....
InterNations Ambassador Breda
Living the InterNations spirit - Nobody stands alone!
InterNations is constantly growing and for many guests, this will be their first event. Please be welcoming and introduce them to your friends. Live the spirit of connecting global minds to ensure that every member has a lovely time. Thanks!
InterNations provides the infrastructure to organize events; members with a special membership status ("InterNations Ambassadors") volunteer to organize events. These voluntary organizers do not represent InterNations as vicarious agents. In the case of gross negligence by the organizers, InterNations therefore does not accept any legal responsibility for resulting damages. Furthermore, neither InterNations nor the event organizers assume liability for any loss of or damage to personal property, nor shall they be held responsible in the event of financial, physical, or emotional damage. To enjoy free or reduced entry, members are advised to upgrade to Albatross Membership 24 hours prior to the event, otherwise InterNations cannot guarantee that your request will be processed in time.