InterNations LIS/CSC: Night in Peru | Official Event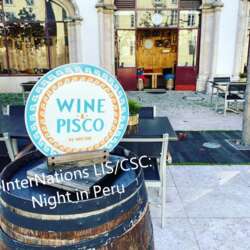 Largo do Duque de Cadaval
Lisbon
---
Your health is important to us!
We are closely monitoring the COVID-19 situation in all our communities around the world and, according to local authorities, certain in-person activities are permitted in your community. Please make sure to follow the latest official health guidelines and restrictions in your area. We hope you stay safe and enjoy the event!
---
Tasty ceviche, zesty pisco sour cocktails, panpipes and drum bands – if there's one thing we know for sure, it's that Peruvians know how to get the party started!
Are you new in town and eager to make new friends? Or living here for a bit longer already and always up for expanding your network? This is the place to be!
Take in the smells, sounds and flavors of the South American gem called Peru, and join us on Saturday 20th Nov. You will be in good hands by manager and sommelier Marco Levya (pick his brain on anything wine-related!).
Make sure you come hungry as there will be more aside from ceviche that you will undoubtedly want to try out :-)
The cover charge includes the venue in exclusive use for InterNations and a welcome drink (Portonico).
Hasta luego!
InterNations Ambassadors Cascais
Living the InterNations spirit - Nobody stands alone!
InterNations is constantly growing and for many guests, this will be their first event. Please be welcoming and introduce them to your friends. Live the spirit of connecting global minds to ensure that every member has a lovely time. Thanks!
InterNations provides the infrastructure to organize events; members with a special membership status ("InterNations Ambassadors") volunteer to organize events. These voluntary organizers do not represent InterNations as vicarious agents. In the case of gross negligence by the organizers, InterNations therefore does not accept any legal responsibility for resulting damages. Furthermore, neither InterNations nor the event organizers assume liability for any loss of or damage to personal property, nor shall they be held responsible in the event of financial, physical, or emotional damage. To enjoy free or reduced entry, members are advised to upgrade to Albatross Membership 24 hours prior to the event, otherwise InterNations cannot guarantee that your request will be processed in time.