InterNations Santiago Open Air Festival @Viña Casa Sur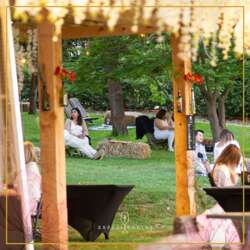 Took place 1 week 1 day ago
Av del museo 268, Melipilla, Región Metropolitana, Chile
Santiago de Chile
---
Your health is important to us!
We are closely monitoring the COVID-19 situation in all our communities around the world and, according to local authorities, certain in-person activities are permitted in your community. Please make sure to follow the latest official health guidelines and restrictions in your area. We hope you stay safe and enjoy the event!
---
InterNations is pleased to invite you to a special and exclusive Open Air Festival at Viña Casa Sur in Pomaire.
You have to buy your ticket through the Eventrid website, at the following link:
https://www.eventrid.cl/eventos/int …
*This is the only way to confirm your assistance. If you have any doubt, you can write me here on this event page.
In this official event, we will have:
-Exclusive event in a vineyard from 15:00 until 23:00
-Art Gallery
-Wine Tasting
-Welcome Drink
-Vineyard Tour
-Wine draw
-Bottle of Wine gift (Albatross members)
-Professional Singer Karen Brown
-2 Djs
-Blue & Jazz Show
-Round Trip Bus (Special Ticket - $25.000 plus taxes)
Feel free to bring your international friends and co-workers and invite them to register on InterNations and buy the ticket here in Eventrid.
The list will be closed 4 days before the event and based on the names registered when you bought the ticket.
All sanitary protocols will be respected and are important that you have your vaccination card!
All information will be given to those who purchased the tickets in Eventrid.
We have 2 types of tickets, one with the buses included, and one without the round trip bus, so pay attention to the ticket you are buying.
Don't miss the opportunity to join us and celebrate the summer in big style in an event full of attractions. Come and live the InterNations experience!
InterNations Ambassador Santiago de Chile
Living the InterNations spirit - Nobody stands alone!
InterNations is constantly growing and for many guests, this will be their first event. Please be welcoming and introduce them to your friends. Live the spirit of connecting global minds to ensure that every member has a lovely time. Thanks!
InterNations provides the infrastructure to organize events; members with a special membership status ("InterNations Ambassadors") volunteer to organize events. These voluntary organizers do not represent InterNations as vicarious agents. In the case of gross negligence by the organizers, InterNations therefore does not accept any legal responsibility for resulting damages. Furthermore, neither InterNations nor the event organizers assume liability for any loss of or damage to personal property, nor shall they be held responsible in the event of financial, physical, or emotional damage. To enjoy free or reduced entry, members are advised to upgrade to Albatross Membership 24 hours prior to the event, otherwise InterNations cannot guarantee that your request will be processed in time.