InterNations Seoul February Networking Event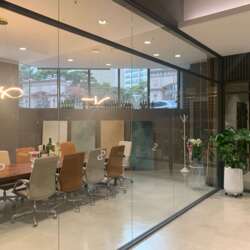 Cellar Privee
LF 93, Dong gwang-ro, Seocho-gu, Seoul, South Korea
Seoul
After two years of waiting, it looks like the coronavirus is here to stay - and at this point, we wish to go ahead and gather old and new members alike to come and share ideas on how we can safely facilitate InterNations networking in Seoul amidst the virus and strict government regulations.
Fellow members + newcomers with great ideas are welcome to join this networking event. To keep up with regulations, we are going to divide the event into two sessions. Twelve people will be allowed in from 18:00 to 19:00 and a new group of twelve people will be allowed in from 19:00 to 20:00. (Total 24 attendees max)
Let's see how this works and work our way on from here!
Venue: Cellar Privee
Special thanks to the owners of Cellar Privee (Marchal Mathieu & Anastacia) who have graciously opened their tasting room for us without charge. Marchal Mathieu is a fine wine specialist and has worked as the head-sommelier and chef for Waldorf Astoria, Four Seasons, Relais & Chateaux and a lot more. Please don't hesitate to check their awesome place out at: https://www.cellarprivee.com/
How to get to the venue:
The venue is a 5-10 minute walk from Naebang station.
*Exclusive venue, temperature check, and alcohol for disinfection. We will only be serving drinks. Masks are mandatory.
**Gentle Reminder: In view of current pandemic regulations, this event is a business networking meeting and not a social event.
InterNations Ambassador Seoul
Living the InterNations spirit - Nobody stands alone!
InterNations is constantly growing and for many guests, this will be their first event. Please be welcoming and introduce them to your friends. Live the spirit of connecting global minds to ensure that every member has a lovely time. Thanks!
InterNations provides the infrastructure to organize activities. The voluntary organizers do not represent InterNations as vicarious agents. In the case of gross negligence by the organizers, InterNations therefore does not accept any legal responsibility for resulting damages. Neither InterNations nor the event organizers assume liability for any loss of or damage to personal property, nor shall they be held responsible in the event of financial, physical, or emotional damage. Organizers and attendees of in-person events agree to adhere to any official health guidelines and local COVID-19 restrictions.