Moscow InterNations PRO Peaceful World Socializing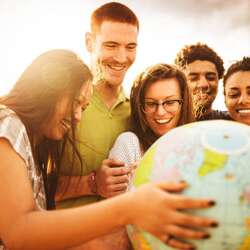 Саввинская набережная 12/8 (Savvinskaya naberezhnaya 12/8)
Moscow
***InterNations has been bringing all nations together and we hope will keep doing so no matter what happens to this world politically. Everyone is welcome to come meet personally and greet each other in the very positive way possible!***
We will be ready to welcome you at 20:00 already.
21:30 is the official start of the socializing part of the event with a welcome drink!
The venue offers a variety of food and drinks, served with genuine personal service.
Welcome drinks will be served till 23:00:
- beer/dry white or red wine/whiskey
- juice/water/cola
We have a nice surprise in store: one of the leading InterNations Ambassadors is going to visit Moscow Community and take part in our event.
The Moscow Ambassador Team will be glad to greet you and welcome you to the event. As you arrive, just say your name for easy registration and we will find you on the guestlist.
Come & socialize for peace and love in the world!
InterNations Ambassador Moscow
Living the InterNations spirit - Nobody stands alone!
InterNations is constantly growing and for many guests, this will be their first event. Please be welcoming and introduce them to your friends. Live the spirit of connecting global minds to ensure that every member has a lovely time. Thanks!
InterNations provides the infrastructure to organize activities. The voluntary organizers do not represent InterNations as vicarious agents. In the case of gross negligence by the organizers, InterNations therefore does not accept any legal responsibility for resulting damages. Neither InterNations nor the event organizers assume liability for any loss of or damage to personal property, nor shall they be held responsible in the event of financial, physical, or emotional damage. Organizers and attendees of in-person events agree to adhere to any official health guidelines and local COVID-19 restrictions.