InterNations Amsterdam Downtown Event @Café De Bazel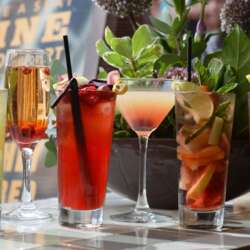 Vijzelstraat 32, 1017 HL Amsterdam
Amsterdam
Let's celebrate that we can freely meet and socialize in style!
Come and join us for an evening of socializing with tasting yummy finger food, heavenly drinks and most delicious dinner.
Meet and greet your old friends and perhaps someone new ;-) This is an social gathering event as we used to have them, just upgraded to an dinner option, for those who wish to dine together.

▶️ Delicious dinner starting at 18.00
Menu (bellow in the comments)
reservation prepayment EUR 14
https://tikkie.me/pay/qum6u1eta6k7s …
▶️ Social drinks & finger food starting at 20.00 Everyone is welcome to join us!
▶️ First 20 members arriving at 8 PM will get a glass of CAVA
▶️ CASH only at registration
▶️ Dress to impress!
▶️ We can host max 100 happy members
De Bazel, the former headquarters of the Nederlandsche Handel Maatschappij (NHM), belongs to the pinnacle of Dutch architecture of the 20th century. The old bank building, including the interiors and furniture, has been designed by K.P.C. de Bazel as a unit, a so-called 'Gesamtkunstwerk'. In March 1991 the building received the status of an official national monument.
The last user of De Bazel, the ABN AMRO bank, kept the building in use until December 2001, Subsequently, the municipality bought the property for just under €30 million to give it a public function.
We are really looking forward to meeting ALL of you on Saturday 5th March @Café De Bazel!
InterNations Ambassadors Amsterdam
Living the InterNations spirit - Nobody stands alone!
InterNations is constantly growing and for many guests, this will be their first event. Please be welcoming and introduce them to your friends. Live the spirit of connecting global minds to ensure that every member has a lovely time. Thanks!
InterNations provides the infrastructure to organize activities. The voluntary organizers do not represent InterNations as vicarious agents. In the case of gross negligence by the organizers, InterNations therefore does not accept any legal responsibility for resulting damages. Neither InterNations nor the event organizers assume liability for any loss of or damage to personal property, nor shall they be held responsible in the event of financial, physical, or emotional damage. Organizers and attendees of in-person events agree to adhere to any official health guidelines and local COVID-19 restrictions.