Internations Melbourne: Friday VIP Night@La Di Da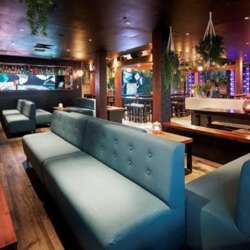 Ladies & Gentlemen,
With the generosity of the La Di Da bar, we are invited to host our event exclusively at their VIP area! This sophisticated bar is one of the most stylish venues newly renovated in the heart of the CBD!
We are privileged to be invited to have a special night of wonder and laughter! Above all you will be mesmerised by the place itself!
For fourteen years, LA DI DA has been Melbourne CBD's pre-eminent venue for live music entertainment featuring weekly club nights, laneway festivals and open mic nights.
Come visit this newly renovated venue, with 4 rooms each with its own style and charisma.
This is a must see venue and we don't get the chance every now and then to be a VIP guests!
Emerge yourself in this cyber place, and you never know what this night is hiding for you!
This glamorous place is a must see venue!
As special as you are, this is a call to every member of InterNations, past and present to attend this night! Especially for those who are out of the scene for a while, what a great and special way to come back and visit your happy memories and catch-up with old friends!
For all the newbies, this is a special invitation to bring your beautiful self or accompany a friend or two and come to enjoy seeing and being in this marvellous place!

Looking forward to seeing you all.
Melbourne Ambassador
Rosha Rad
InterNations Ambassador Melbourne
Living the InterNations spirit - Nobody stands alone!
InterNations is constantly growing and for many guests, this will be their first event. Please be welcoming and introduce them to your friends. Live the spirit of connecting global minds to ensure that every member has a lovely time. Thanks!
InterNations provides the infrastructure to organize activities. The voluntary organizers do not represent InterNations as vicarious agents. In the case of gross negligence by the organizers, InterNations therefore does not accept any legal responsibility for resulting damages. Neither InterNations nor the event organizers assume liability for any loss of or damage to personal property, nor shall they be held responsible in the event of financial, physical, or emotional damage. Organizers and attendees of in-person events agree to adhere to any official health guidelines and local COVID-19 restrictions.