InterNations LIS/CSC: For Your Eyes Only @ Sinnerman Speakeasy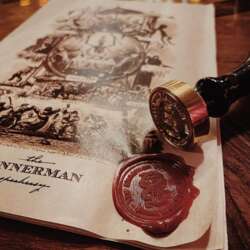 R. Bartolomeu de Gusmão 24, 2765-305 Estoril, Portugal
Estoril
***AS AGREED WITH THE VENUE, THERE CAN BE NO WALK-INS ON THE DAY AND WE WILL CLOSE THE GUEST LIST 24 HRS PRIOR TO THE EVENT. SHOULD YOU HAVE ANY GUESTS, PLS. SEND US THEIR NAMES IN A PRIVATE MESSAGE ASAP. THANK YOU 🙏***
Ring the door bell of The Sinnerman Speakeasy and be welcomed... into a special world of its own. Everything about The Sinnerman is impressive: the decor is awe inspiring; the scale of the venue is massive; yet every detail is spectacular - this bijoux box is a world class cocktail bar and a true piece of art. The venue is brand new and partially "members only", however, for InterNations they will of course open their doors!
Join us on Sat. 2nd Apr. for some supremely delicious drinks, in company of the nicest bunch of Expats and Global Minds. New in town? You came to the right place! Where else is it easier to make new friends and get that insider's info you need about all things local!
We have invited TOP entertainers who will perform during the night, so whoever would want to move their feet to the Jazz and Swing Era (ideally not on someone else's feet!) - feel free! After all... this venue is "For Your Eyes Only" ;-)
Food/Snacks menu for our event:
- Pastrami & Cheese Sandwich
- Brie & Procciuto Toast
- Cod & Chickpeas Salad
- Hummus & Pitas
- Serra cheese and Olives
⚠️⚠️⚠️
Pls. ring the doorbell on arrival and tell the password "FOR YOUR EYES ONLY" to be allowed in.
⚠️⚠️⚠️
See you soon :-)
InterNations Ambassadors Cascais
Living the InterNations spirit - Nobody stands alone!
InterNations is constantly growing and for many guests, this will be their first event. Please be welcoming and introduce them to your friends. Live the spirit of connecting global minds to ensure that every member has a lovely time. Thanks!
InterNations provides the infrastructure to organize activities. The voluntary organizers do not represent InterNations as vicarious agents. In the case of gross negligence by the organizers, InterNations therefore does not accept any legal responsibility for resulting damages. Neither InterNations nor the event organizers assume liability for any loss of or damage to personal property, nor shall they be held responsible in the event of financial, physical, or emotional damage. Organizers and attendees of in-person events agree to adhere to any official health guidelines and local COVID-19 restrictions.