InterNations Athens Official Event @B4B Signature Hotel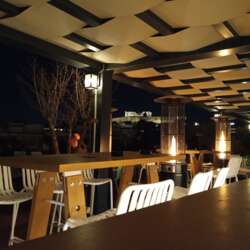 B4B Athens Signature Hotel
Theofilopoulou 18, Kallirois Avenue
Athens
This is not a lie! Just an official event during April Fools. Come enjoy the spring, see the Acropolis and have a drink with us.
Make sure you read the details below!
The event will take place outside (with "mushroom" heaters on if it's cold) so vaccinated and unvaccinated people will be allowed to mingle without problem! Non-vaccinated will of course need a valid test according to government regulations.
Albatross members get free entry, but there is a mandatory minimum consumption of 6 Euro per person.
Basic Members and people not signed up for the event pay the mandatory fee, they will receive however a welcome drink, wine, beer or soft drink. It cannot be exchanged for other drinks.
Attention: ONLY CASH is accepted for the entry fee. Please have the exact amount if possible.
NO CREDIT/DEBIT CARDS. I can offer the option for PayPal, at least 48 hours before the event (terms, conditions, and fees related to the PayPal platform do apply).
Please try to sign up for the event before you come. It speeds up the entry process. Otherwise, it takes a lot of time to identify people on the app. Spelling your name is also faster than printing and showing QR codes. Guest list closes 30-60 minutes before the event.
Both "Acropolis" and "Syggrou-Fix" metro stations (red line) and the tram line, are less than 500m away.
The event has to end by 23:30, but there will be an after-party organized if necessary. If the weather gets bad, the event will be postponed.
See you there!
InterNations Ambassadors Athens
Living the InterNations spirit - Nobody stands alone!
InterNations is constantly growing and for many guests, this will be their first event. Please be welcoming and introduce them to your friends. Live the spirit of connecting global minds to ensure that every member has a lovely time. Thanks!
InterNations provides the infrastructure to organize activities. The voluntary organizers do not represent InterNations as vicarious agents. In the case of gross negligence by the organizers, InterNations therefore does not accept any legal responsibility for resulting damages. Neither InterNations nor the event organizers assume liability for any loss of or damage to personal property, nor shall they be held responsible in the event of financial, physical, or emotional damage. Organizers and attendees of in-person events agree to adhere to any official health guidelines and local COVID-19 restrictions.