InterNations Paris | Newcomers' Event @Les Spectacles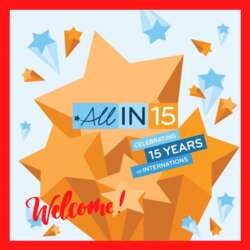 110, rue de Bercy 75012
Paris, France, France, France
If you are new in Paris, you are welcome to join our Newcomers' Event with the best network that turns 15 years now.
In this iconic place, which has welcomed all the great artists when they left the stage, let's enjoy a drink and meet new people, always with the greed and generosity that make the reputation of the Shows in Paris.
Feel free to do your show tonight!
What to expect:
- Happy Hour until 10 p.m. : Soft at 5€, Beer 50cl at 6€ and Cocktails at 7€.
- Are you hungry afterwork? Take the pleasure to have dinner without breaking the bank but not at the same time: https://www.brasserielesspectacles. …
- We will show you more about the InterNations's background in the last 15 years and we will answer to your questions.
- Background music and more.
- Dress code: Be as you are!
This Newcomers' Event is good to enjoy and make connections so don't be shy.
You will find great partners & new friends with the bracelets:
- Blue for Albatross and White for Basic Members to get easier and identify your future contact 🔜
- Not signed in the event?
Do not worry, we will introduce to all the tribe to be part of Paris Community.
- If you are Consul, be free to introduce your group to the newbies!
By public transportation:
Line 6 and 14 stop Bercy.
We will be just behind the scenes as celebrities.
An InterNations banner will guide you at the entrance.
Looking forward to welcome you in this Parisian adventure 😍
InterNations Ambassadors Paris
Living the InterNations spirit - Nobody stands alone!
InterNations is constantly growing and for many guests, this will be their first event. Please be welcoming and introduce them to your friends. Live the spirit of connecting global minds to ensure that every member has a lovely time. Thanks!
InterNations provides the infrastructure to organize activities. The voluntary organizers do not represent InterNations as vicarious agents. In the case of gross negligence by the organizers, InterNations therefore does not accept any legal responsibility for resulting damages. Neither InterNations nor the event organizers assume liability for any loss of or damage to personal property, nor shall they be held responsible in the event of financial, physical, or emotional damage. Organizers and attendees of in-person events agree to adhere to any official health guidelines and local COVID-19 restrictions.