InterNations Belgrade Event "Hello Autumn" @Cornelius&Cylinder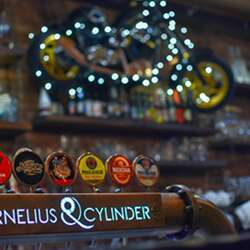 "An unusual sight took our breath away that morning while we were cleaning up the attic of my great-grandfather's home in Vracar. There was an overturned old cylinder on the floor..."
Let's step together inside this fairytale about the first authentic Steampunk Bar Restaurant in Serbia.
We are located in the heart of Belgrade, in Vracar. Tucked away between buildings, we will both welcome and charm you at the first sight with our outstanding, unique decor.
Cornelius & Cylinder bar can accommodate between 80-100 guests, and when the weather is warm there is also a separate green oasis garden that's tucked away from sight and city noise.
Celebrate your birthday or an important day in our pleasant ambiance.
You will enjoy our international cuisine that nurtures a modern approach to custom-made dishes. Our excellent chefs will do their best to satisfy even the most demanding guests.
In addition to carefully designed, delicious dishes, we have an excellent drinks chart with a diverse selection of beers, adequate wines and brilliant cocktails. Our professional bartenders will wake you up with a creamy Italian espresso, an aromatic tea or hot chocolate. With our freshly pressed juice, you will lose track of time.
Let us begin this journey together through the gentle whispers of an authentic gastronomical tale where wealth isn't about what you have, but what you enjoy.
Welcome to Cornelius & Cylinder
InterNations Ambassadors Belgrade
Living the InterNations spirit - Nobody stands alone!
InterNations is constantly growing and for many guests, this will be their first event. Please be welcoming and introduce them to your friends. Live the spirit of connecting global minds to ensure that every member has a lovely time. Thanks!
InterNations provides the infrastructure to organize activities. The voluntary organizers do not represent InterNations as vicarious agents. In the case of gross negligence by the organizers, InterNations therefore does not accept any legal responsibility for resulting damages. Neither InterNations nor the event organizers assume liability for any loss of or damage to personal property, nor shall they be held responsible in the event of financial, physical, or emotional damage. Organizers and attendees of in-person events agree to adhere to any official health guidelines and local COVID-19 restrictions.