InterNations Duesseldorf January Event @ Cubanitos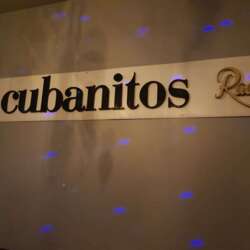 We start the new year with fresh energy, friendly mood and inspiration, we return to Cubanitos, on the famous Ratinger straße.
So come and join us, bring your friends, family and coworkers for a nice start to the week, interact with other internationally minded people, have a cool drink, chat and celebrate. 🙂
🛎️The registration desk will be open between 19:00 and 21:30. However, the bar will be open till late.
⚠️If you have registered but then cannot attend, please take the time to cancel your attendance! This is important to us, as we rely on the guest list when communicating with the venue, thank you!⚠️
Disclaimer:
1. InterNations promote Photos from InterNations Event, if you don't want to become part of picture, let the organizer know in advance during CHECK-IN.
2. Only 1 WELCOME DRINK is subjected to each participant, people claiming more then 1 welcome drink at the check-in desk is creating bad reputation for Internations in front of Host location & also for the organisor, and they will be reported to head office without any discussion.
Guidelines : https://www.internations.org/guidel … (Please check official event Guidelines)
Travel Info. Nearest Tram stop is Heinrich-Heine-Alle U-Bahn station. You need to walk around 400 Meter to reach famous Rating strasse.
Regards,
InterNations Ambassadors Duesseldorf
Living the InterNations spirit - Nobody stands alone!
InterNations is constantly growing and for many guests, this will be their first event. Please be welcoming and introduce them to your friends. Live the spirit of connecting global minds to ensure that every member has a lovely time. Thanks!
InterNations provides the infrastructure to organize activities. The voluntary organizers do not represent InterNations as vicarious agents. In the case of gross negligence by the organizers, InterNations therefore does not accept any legal responsibility for resulting damages. Neither InterNations nor the event organizers assume liability for any loss of or damage to personal property, nor shall they be held responsible in the event of financial, physical, or emotional damage. Organizers and attendees of in-person events agree to adhere to any official health guidelines and local COVID-19 restrictions.