InterNations Islamabad Happy New Year Retreat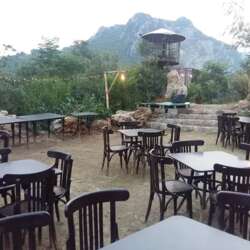 Next to Buddha Caves , Shah Allahditta, across sector D 12
Islamabad
We are here with an exciting event for the New Year!
Our venue for the New Year recreational event is Sadhu's Retreat in Shah Allah Ditta. It's has been used, for decades, as meditation space by Buddhist monks. With their caves right next door, the Retreat lies in a valley surrounded by green hills.
Besides a restaurant, Sadhu's Retreat offers a range of outdoor activities like luxury camping, swimming pool, trekking and hiking, rock climbing, bouldering, zip line, archery, air gun target shooting, paint ball and may other customized team building activities.
You will have an interesting and enjoyable day with other InterNations members. You will be welcome with
• Pakoras with a cup of tea and much more
• Team activities like trekking, tug of war, pass the ball. You can enjoy other activities as well but have to pay with 10% discount available.
• Lunch: Chicken Seekh Kabab, Chicken Tikka Boti, Aalo Bhaji, Palak Paneer, Chappati, Water, Salad, Mint Sauce, Tea. All included in the pre-registration price.
It's a paid event and you are suppose to pay the charges in advance to Mr. Nauman Tariq, our InterNations Islamabad Ambassador. Please deposit the right amount to his Jazz cash account +92 300 8245132 and send the paid slip image to WhatsApp on the same number till 24th January 2023
Don't miss this event, you may join with friends and family!
RSVP
Sabreena +92 300 5052486
Nauman +92 300 8245132
Anila +92 332 5288999
Owner of the venue Dr. Tariq Rahim Shah +92 314 5187977
InterNations Ambassadors Islamabad
Living the InterNations spirit - Nobody stands alone!
InterNations is constantly growing and for many guests, this will be their first event. Please be welcoming and introduce them to your friends. Live the spirit of connecting global minds to ensure that every member has a lovely time. Thanks!
InterNations provides the infrastructure to organize activities. The voluntary organizers do not represent InterNations as vicarious agents. In the case of gross negligence by the organizers, InterNations therefore does not accept any legal responsibility for resulting damages. Neither InterNations nor the event organizers assume liability for any loss of or damage to personal property, nor shall they be held responsible in the event of financial, physical, or emotional damage. Organizers and attendees of in-person events agree to adhere to any official health guidelines and local COVID-19 restrictions.