InterNations Mexico City Toast Another Year Ahead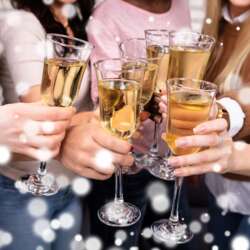 All Wood BBQ
Av. Yucatán 147 Piso 1, Roma Norte, 06700
Mexico City
Let's make a toast to another beautiful year ahead!
This is Your Year to Shine! Let´s raise our glasses to a wonderful year full of joy, fun, and remarkable adventures ahead. Learn from past years and look ahead to all the fantastic things to come in the future.
This is the second official party of 2023 come with your friends (remember to register them using the attendance button in the invitation), say hello to InterNations friends, and meet new ones.
Attendees will enjoy Happy Hour from 20:00 to 21:00 please ask for the selected cocktails and beers.
Music for dancing and having fun.
InterNations experience in an exclusive and private environment.
Looking forward to seeing you there next Saturday, January the 28th.
Cheers to us!
Luz and Grishka
InterNations Ambassadors Mexico City
InterNations Ambassadors Mexico City
Living the InterNations spirit - Nobody stands alone!
InterNations is constantly growing and for many guests, this will be their first event. Please be welcoming and introduce them to your friends. Live the spirit of connecting global minds to ensure that every member has a lovely time. Thanks!
InterNations provides the infrastructure to organize activities. The voluntary organizers do not represent InterNations as vicarious agents. In the case of gross negligence by the organizers, InterNations therefore does not accept any legal responsibility for resulting damages. Neither InterNations nor the event organizers assume liability for any loss of or damage to personal property, nor shall they be held responsible in the event of financial, physical, or emotional damage. Organizers and attendees of in-person events agree to adhere to any official health guidelines and local COVID-19 restrictions.