InterNations Lugano Official Event @ Niki's Caffè & Bistrot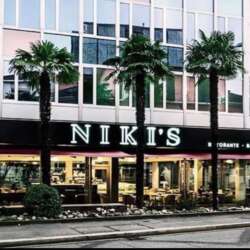 Via Serafino Balestra 12
Lugano
We are happy to invite you to our March networking event at the Niki's Bar in Lugano.
InterNations is a protective environment living by the statement: "nobody stands alone". Please feel free to approach all new faces and welcome them and introduce them to others, they will appreciate it!!
If you clicked to attend then your plans have changed and you can no longer come, please cancel your attendance on the event page (no private messages) so we can inform the venue.
Accurate attendance numbers help us organize better!
At 21:00 it will be possible to join the Latino dancing event organized from Let'dance school of Paradiso.
We remind you that the event is free and that only albatross will receive a token that grants them a free prosecco glass or a soft-drink.
See you all at the venue!
InterNations Ambassadors Lugano
Living the InterNations spirit - Nobody stands alone!
InterNations is constantly growing and for many guests, this will be their first event. Please be welcoming and introduce them to your friends. Live the spirit of connecting global minds to ensure that every member has a lovely time. Thanks!
InterNations provides the infrastructure to organize activities. The voluntary organizers do not represent InterNations as vicarious agents. In the case of gross negligence by the organizers, InterNations therefore does not accept any legal responsibility for resulting damages. Neither InterNations nor the event organizers assume liability for any loss of or damage to personal property, nor shall they be held responsible in the event of financial, physical, or emotional damage. Organizers and attendees of in-person events agree to adhere to any official health guidelines and local COVID-19 restrictions.