InterNations Monterrey Newcomers' Event with Salsa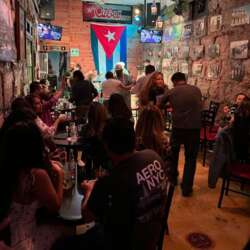 Took place 1 week 6 days ago
Malecon Habana
Malecon Habana Juan Ignacio Ramon 1010, Centro
Monterrey
Dear Monterrey Community:
It's time to dance!
Let's celebrate this month with this gathering in the heart of Monterrey city: Barrio Antiguo.
Please join us next Saturday 18th at Malecon Habana and let's welcome our new members in Monterrey area with a Salsa Night , Live music, Cuban Menu, and lots of salsa, bachata, merengue and more!
So save the date and see you there!
🛑 Those who come earlier dance longer 🛑
🕗 Admission from 20:00
𝑬𝒏𝒕𝒓𝒚 𝒑𝒐𝒔𝒔𝒊𝒃𝒍𝒆 𝒂𝒕 𝒂𝒏𝒚 𝒕𝒊𝒎𝒆, 𝒏𝒐 𝒑𝒓𝒊𝒐𝒓 𝒌𝒏𝒐𝒘𝒍𝒆𝒅𝒈𝒆, 𝒏𝒐 𝒑𝒂𝒓𝒕𝒏𝒆𝒓 𝒓𝒆𝒒𝒖𝒊𝒓𝒆𝒅! 𝑱𝒖𝒔𝒕 𝒄𝒐𝒎𝒆 𝒂𝒏𝒅 𝒋𝒐𝒊𝒏 𝒊𝒏
𝐀𝐃𝐌𝐈𝐒𝐒𝐈𝐎𝐍 𝐅𝐑𝐄𝐄!
Feel free to contact me for any concerns.
Make sure to hit the ATTEND button and let us know if you're bringing more friends, if possible, please register before.
InterNations Ambassadors Monterrey
Living the InterNations spirit - Nobody stands alone!
InterNations is constantly growing and for many guests, this will be their first event. Please be welcoming and introduce them to your friends. Live the spirit of connecting global minds to ensure that every member has a lovely time. Thanks!
InterNations provides the infrastructure to organize activities. The voluntary organizers do not represent InterNations as vicarious agents. In the case of gross negligence by the organizers, InterNations therefore does not accept any legal responsibility for resulting damages. Neither InterNations nor the event organizers assume liability for any loss of or damage to personal property, nor shall they be held responsible in the event of financial, physical, or emotional damage. Organizers and attendees of in-person events agree to adhere to any official health guidelines and local COVID-19 restrictions.