FULL: InterNations - Let's Escape to the Tropics!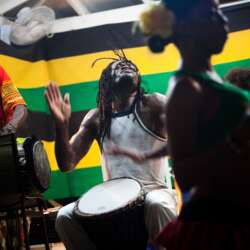 Sweet Fingers Jamaican Restaurant
5859 Foothill Blvd
Oakland, United States of America
Sweet Fingers Restaurant is hosting us on Sunday, July 16th from 4 pm - 7 pm for our next official InterNations event!
Live music from I N I SOULJAHS draws inspiration from classic reggae artists such as Bob Marley, Peter Tosh, and Burning Spear, as well as contemporary artists like Burner Boy and Jamie Foxx. Their music is characterized by its positive message and uplifting rhythms, which aim to inspire listeners to live their best lives.
Sweet Fingers aim to serve the finest Jamaican cuisine in an effort to stimulate and awaken the senses, mind, body, and soul of all who choose to dine and spend quality time at a very special place.
In order to accommodate everyone, we have negotiated a fair price with the venue as they are excited to host us! It is MANDATORY to RSVP 7 days in advance for comfortable seating.
You can venmo at: https://venmo.com/u/Chantele-Shanna …
Albatross - $10
Basic Members - $15
Nonmembers - $20
There is a huge parking lot in the Seminary point shopping center where venue's located and AC transit bus stops right in front of the restaurant.
InterNations Ambassadors San Francisco
Living the InterNations spirit - Nobody stands alone!
InterNations is constantly growing and for many guests, this will be their first event. Please be welcoming and introduce them to your friends. Live the spirit of connecting global minds to ensure that every member has a lovely time. Thanks!
InterNations provides the infrastructure to organize activities. The voluntary organizers do not represent InterNations as vicarious agents. In the case of gross negligence by the organizers, InterNations therefore does not accept any legal responsibility for resulting damages. Neither InterNations nor the event organizers assume liability for any loss of or damage to personal property, nor shall they be held responsible in the event of financial, physical, or emotional damage. Organizers and attendees of in-person events agree to adhere to any official health guidelines and local COVID-19 restrictions.