InterNations HK Official 2nd Social of July @ ODDS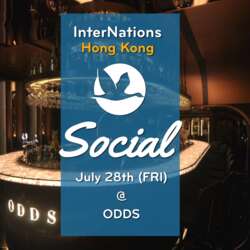 Continuing our spectacular social nights, we look forward to another wonderful night, this time for our very first time at the acclaimed Japanese Restaurant and Bar - ODDS!
Conveniently located in the heart of the Financial District at the Standard Chartered Building, connect, mix and mingle with people from around the world as we enjoy a great Friday night out in a spectacular manner. Entry includes one welcome drink for all guests and limited canapes (while available).
Lucky draw sponsored by TakeOut Comedy, Iyara Day Spa at 10:30pm.
Happy hour will be till 9pm. Feeling hungry? Feel free to order from the delightful restaurant menu. In all, it'll be a true night to remember - so feel free to bring friends and other global minds for a great time.
ABOUT ODDS:
Helmed by LUBUDS Group's most elite team of Japanese chefs, ODDS is an avant-garde Japanese fine-dining concept that combines Teppanyaki, sushi, yakitori, bar, and coffee all under one roof. Outfitted in stylish decor, the venue boasts an elegant atmosphere that attracts gourmands and professionals in the city. An oval-shaped bar table sits near the entrance, inviting guests to enjoy drinks and light refreshments; while the main dining area is equipped with a sushi and teppanyaki counter. Guests can watch skilled chefs prepare their food using the freshest ingredients imported from Japan, or even let loose and dance to live DJ music on designated nights–a true multisensory dining experience.
InterNations Ambassadors Hong Kong
Living the InterNations spirit - Nobody stands alone!
InterNations is constantly growing and for many guests, this will be their first event. Please be welcoming and introduce them to your friends. Live the spirit of connecting global minds to ensure that every member has a lovely time. Thanks!
InterNations provides the infrastructure to organize activities. The voluntary organizers do not represent InterNations as vicarious agents. In the case of gross negligence by the organizers, InterNations therefore does not accept any legal responsibility for resulting damages. Neither InterNations nor the event organizers assume liability for any loss of or damage to personal property, nor shall they be held responsible in the event of financial, physical, or emotional damage. Organizers and attendees of in-person events agree to adhere to any official health guidelines and local COVID-19 restrictions.