InterNations Prague Newcomers' Mingle @ Beer Garden Karlin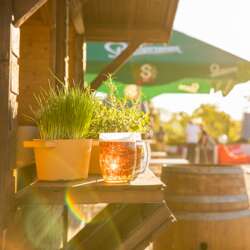 Beer Garden Karlin
Pobřežní 1
Prague, Czech Republic
The summer continues, and the Mingle is staying outside!
Have you recently moved to Prague? Or are you new to InterNations? Or do you just want to have a nice relaxing time and meet new people? Make some friends? You've come to the right place!
For this start of the summer, I've gotten THE best terrace in Karlin for us overlooking the Vlatava River and Holešovice
Beer Garden Karlín is a new sunny place on the northern terraces of the Prague Hilton Hotel overlooking the Vltava. During the warm spring and summer days, come relax with your friends, have a few beers and sample some local barbecue. They have five beers on tap, including lager, semi-dark, or wheat beer. You can taste the local specialty - pork ribs marinated in dark beer - or just an ordinary hot dog. The menu is designed so that the food best suits the beers served. They also offer special Gin & Tonics, homemade lemonade, and ice cream.
(Prices are à la carte and checks are individual. Tabs are not allowed!)
We only have 40 spaces, so if you sign up, please just come and don't be on the list just for the show. - Kindly cancel and grant your spot to another.
It's literally 5 minute's walk from Metro Florenc (Red and Yellow lines)
Ps. If the weather will be bad and the garden is closed, we will reschedule the event to another day or location. Please be notified and check out the message board.
InterNations Ambassador Prague
Living the InterNations spirit - Nobody stands alone!
InterNations is constantly growing and for many guests, this will be their first event. Please be welcoming and introduce them to your friends. Live the spirit of connecting global minds to ensure that every member has a lovely time. Thanks!
InterNations provides the infrastructure to organize activities. The voluntary organizers do not represent InterNations as vicarious agents. In the case of gross negligence by the organizers, InterNations therefore does not accept any legal responsibility for resulting damages. Neither InterNations nor the event organizers assume liability for any loss of or damage to personal property, nor shall they be held responsible in the event of financial, physical, or emotional damage. Organizers and attendees of in-person events agree to adhere to any official health guidelines and local COVID-19 restrictions.