InterNations Riyadh August Official Event@Braira Hotel & Resort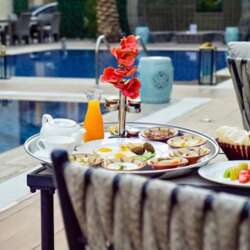 Braira Hattien Villas Resort, Prince Mohammed Ibn Salman Ibn Abdulaziz Rd, Riyadh 13253
Riyadh, Saudi Arabia
Are you ready to boom another outstanding gathering ?
Yes? So here we go!
We are excited to bring together a diverse community of like-minded individuals for an unforgettable experience.
The event will feature a captivating live music performance by a talented music band and DJ, setting the perfect ambiance for a delightful gathering. As you enjoy the company of other attendees, you'll also have the chance to take a refreshing dip in the inviting swimming pool, perfect for beating the summer heat.
To keep you energized throughout the event, we've arranged an open buffet with a delectable selection of dishes, ensuring you have a variety of culinary delights to choose from.
One of the highlights of the day will be the special celebration of Leo birthdays. If you are a Leo, we encourage you to join in the fun and WEAR RED to mark this occasion in a vibrant and festive manner.
As part of this exclusive offer, the cost for attending Braira Hotel & Resort is only 155 SAR, ( Not including the entrance fees).
Please be aware that payment for the entrance fees is strictly CASH-only, as we won't be able to accept credit cards.
So, come dressed in your summer wear, ready to make new friends, enjoy great music, delicious food, and celebrate Leo birthdays in style.
Don't miss out on this incredible opportunity to socialize and have a wonderful time at Braira Hotel and Resort with the interNations community. We look forward to welcoming you and your friends!
See you there!
InterNations Ambassador Riyadh
Living the InterNations spirit - Nobody stands alone!
InterNations is constantly growing and for many guests, this will be their first event. Please be welcoming and introduce them to your friends. Live the spirit of connecting global minds to ensure that every member has a lovely time. Thanks!
InterNations provides the infrastructure to organize activities. The voluntary organizers do not represent InterNations as vicarious agents. In the case of gross negligence by the organizers, InterNations therefore does not accept any legal responsibility for resulting damages. Neither InterNations nor the event organizers assume liability for any loss of or damage to personal property, nor shall they be held responsible in the event of financial, physical, or emotional damage. Organizers and attendees of in-person events agree to adhere to any official health guidelines and local COVID-19 restrictions.