Sixteen Inspiring Stories from Sixteen Years of Connecting Global Minds
Sixteen Inspiring Stories from Sixteen Years of Connecting Global Minds

By Réka Barabás
16 years of wonderful events.
16 years of global adventures.
16 years of fostering connections.
This month, InterNations is celebrating 16 years of connecting global minds. What better time to reflect on the fun memories that were created? Here are 16 stories from 16 amazing members, revealing just how sweet life can be within the InterNations community.
There are so many good memories, some members had trouble choosing which ones to highlight:
"I have had many memories with InterNations, organizing events in different countries as a Consul and now as an Ambassador. The fun and socializing time in different events I organize always gives me more motivation. I have organized different kinds of events from dance, book discussions, yoga, walks, archery, traditional food, vegetarian food, and many more! So many memories were created and enjoyed with my community!"
That is a lot of different activities, but you guessed it right, there are more! The great part about having a diverse group of organizers with various interests is that you might find yourself trying something completely unexpected. For example, you could end up attending a gin school or indulging in some creative pottery painting alongside like-minded people!
"My favorite InterNations event was hosting a gin school event at Scoundrels Distilling, aka Invicta Gin School. The gin I made tied with another Consul for the best gins of the day! So educational and fun!"
"Had a very nice 'Crémant Evening with Pottery Painting' with some Luxembourg Culture Group members. Wonderful event with unforgettable memories and finally unique 'art works' of all participants!"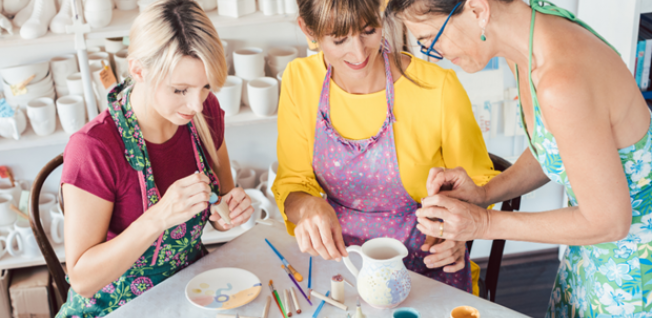 InterNations events offer a wonderful opportunity not only to forge new friendships but also to rekindle connections with those from your past. As you attend our events, you'll find a unique and inviting atmosphere that encourages interaction and connection. This inclusive community brings together individuals from diverse backgrounds and experiences, creating an ideal setting to catch up with friends you may have lost touch with over the years:
"At my first time ever at an InterNations event, I reconnected with an old friend that I hadn't seen in years since before the pandemic! Also, he introduced me to a friend of his, with whom we all ended up having great moments and cracking so many jokes. The vibe and connection grew stronger with each weekly event! InterNations is an awesome community."
At the core of our community lies an outstanding team of Ambassadors and Consuls who play an invaluable role and help our mission come to life. They are the driving force behind our extensive event catalog, meticulously curating a diverse range of gatherings that help expats settle into their new homes faster.
"In 2012 I became one of the very few Consuls of InterNations The Hague. I created The Hague DinnerNations Group, to share my culinary interests like fine dining, international cuisines, street food, snacks, high tea/wine/dinner/cocktail, wine & cheese tasting, and so on. I have met so many nice and interesting people of more than 100 different nationalities. Some of them have already moved to other countries and they are still continuing the spirit of InterNations. In January 2016 I created my second group The Hague Meets Delft, after moving to Delft in December 2015. I stepped down as a Group Consul of The Hague DinnerNations. At present The Hague Meets Delft Group is the one and only group in Delft, attracting attendees between The Hague, Rotterdam, Amsterdam, Utrecht, Den Bosch, and Zuid and Noord Holland. One of the most unforgettable memories of being a Consul/Ambassador was to be invited out by Malte Zeeck, founder and CEO of InterNations, together with the Ambassadors and Consuls of The Hague, Rotterdam, and Amsterdam. Thank you once again for being part of the Sweet 16 years."
Sometimes though, our amazing organizers can forget how great they are. But it's remarkable how a single person can swiftly reignite their motivation and enthusiasm:
"I hosted a twin heart meditation in 2018, by the lake. I was disappointed in myself that I was not well-prepared in leading it. In 2021, at another event I hosted, a woman came to me and said that she had such a wonderful time at my meditation in 2018. She meditated regularly now because of that event. It was amazing, she said — to my BIG surprise. I never knew, it was just a sincere effort to lead the group. Even if I felt I was not ready, it still made a difference. That feedback was a HUGE encouragement for me to keep leading meditation!"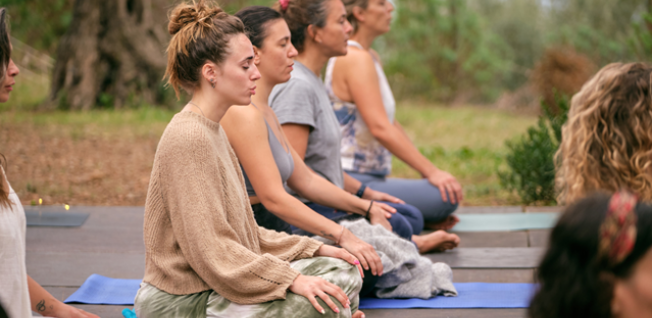 Did you know that InterNations not only organizes in-person gatherings, but online events as well? So, if you don't have a community where you live, or don't feel like commuting into the city but still would like to get your weekly dose of socializing, you can attend online events, like these members:
"My most memorable InterNations event was getting together in Paris in November last year. With my friend Sabita, a Consul from Utrecht, we went by car from Amsterdam to spend 24 hours in Paris. We met over 20 fabulous people there whom we had met online during COVID. We had an awesome time. InterNations online helped us not only go through the challenging COVID time, but also to make new true friends with people living all over the world. Thank you! And thank you for this amazing opportunity to continue both online and in-person events."
"I heard about InterNations Muscat when I came back to Oman in 2014 but I didn't attend any events at first. But in August 2017, I finally decided to register as a Basic Member. I've been attending events since then and as an expat, I find that the network offers a great opportunity to explore and connect with like-minded people. So, from a Basic Member, I thought of upgrading my membership to Albatross. Since then, I've met more people, turning these strangers into friends and some friends into business partners. Thank you for this expat community! After I started attending events in Muscat, I also attended some events in Dubai and Manila. Even during the pandemic, I met a lot of people during online events. I found it very interesting to explore and learn more about other people and cultures. It also helped me contribute something socially not only for the InterNations community but to society as a whole. The events are great for expats like me. Living abroad is lonely and I feel safer having a community wherever in the world life takes me. Turning strangers into friends is challenging but it's also an opportunity to find like-minded people. I am always open to learn as I connect and share ideas or information. People like doing business with people they like. It's my mantra. I was able to expand my business ideas with the right people. I believe that being consistent in what I do will define me as a person and ultimately, it will reflect on my profession. Life and business are all about relations. We have our own expertise, and we are shaped by our own experience and culture as we continuously connect. As an InterNations member, you have this opportunity, you have your own share to grow and contribute. Thank you to this community! Thank you InterNations and Happy Sweet 16!"
What about introverts and individuals who may feel a bit shy or reserved? We know that not everyone finds it effortless to step out of their comfort zones and venture into unfamiliar environments where they might not know a single soul. It's important to create inclusive spaces that cater to a diverse range of personalities and comfort levels. After all, we all have our unique ways of engaging with the world, and fostering an atmosphere of warmth and understanding can encourage even the most introverted among us to feel more comfortable and welcomed.
"I started as an Albatross Member when I first joined, shy and nervous to meet new people but from one event to the next, I became a completely different person who is eager to mingle and exchange experiences with new potential friends with an open heart. Then I became a Consul. The best moment ever was when a Basic Member, who was interested in my activities, sent a private message to get permission to attend my event, and of course, I welcomed her. She not only thanked me for organizing, but she upgraded her membership to be able to attend all my activities. Wow! I feel proud of myself for doing my role in the best way! I learned that to create a friendly community you have to be friendly yourself in the first place. I owe all my gratitude to InterNations, which got me out of my cocoon into a beautiful wide world."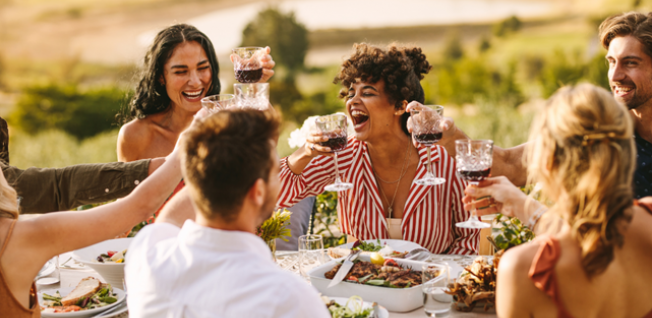 Loneliness is an inherent part of every expat's journey, and we understand that it can be quite overwhelming, especially in the beginning when you don't know anyone in your new city. However, this is precisely where our community steps in to make your transition smoother and more enjoyable.
We take pride in the fact that our members have found incredible friendships and meaningful connections through our events and gatherings. These interactions aren't just about socializing; they're about creating a supportive, welcoming, and friendly atmosphere where you can truly feel at home. So, if you're a bit apprehensive about stepping into the unknown, rest assured that you'll have the opportunity to meet wonderful people and build long-lasting friendships through our vibrant community.
"I can say that I was lonely in Berlin ... I accidentally came across the InterNations advertisement here on Instagram, registered on the website, but still didn't dare to go to the event. After a while, I got over myself and went. Since that April day in 2023, my life has changed. I have a lot of friends and I'm not bored in my free time."
Many of these friendships have truly stood the test of time:
"I joined InterNations in January of 2014 as a local looking to meet global minds and was drawn to the Nairobi Live Music Group. This is where I met lifelong friends. We're all scattered now around the world and stay in touch. I even got invited to their weddings and now virtually watch their families grow. I wouldn't have met them if it weren't for InterNations"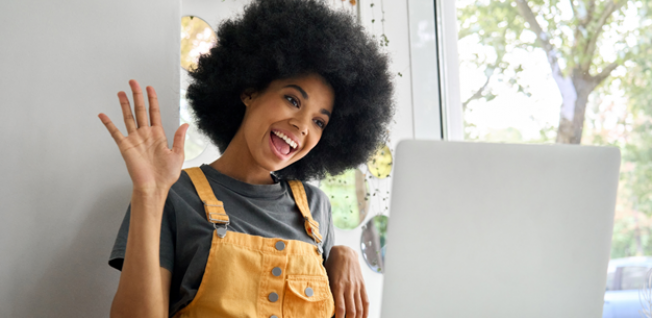 And they give you the opportunity to learn about many different cultures:
"My favorite InterNations event was actually last March, where I met lovely people from Poland, Turkey, and Ireland. Now we are good friends and host each other almost every week. It helps not feeling lonely in a foreign country."
Some of our members have forged such deep connections that they make it a point to meet up with each other even when their paths lead them to different countries:
"My favorite InterNations Event was in Sevilla, organized by Sara. I'm French from Paris, I was on Holiday in Andalucia, and I met her and a new friend in a new country. Later, I went back to Sevilla for my holidays, and Sara was in Paris at the same time ... Very funny. We kept in touch via WhatsApp, and I returned to Paris one day before she went away. I met her at the train station for two hours before she took her train. Now we are super friends."
Who says the size of a community or the turnout at an event determines its value? In fact, when only a handful of people show up to a gathering, more profound connections can be forged. So, don't underestimate the magic that can happen in these smaller, more personal settings – they often lead to some of the most cherished connections and memories.
"I hosted a Fado night in Luanda. Only me and another person showed up. We ended up talking, laughing all night, and we discovered that we both loved Fado and hosting. Me in Luanda, him in Tanzania. After a whole night of deliciously painful belly laughs, we ended up becoming the best of friends."
"The best memory I've had was the last anniversary celebration prior to the pandemic, we are a rather small but very close community; we got together and celebrated friendship and the opportunity to share with other like-minded individuals. The following years were very disruptive and today I cherish memories I had the opportunity to develop with friends that are no more and also with friends that are still present. Thank you InterNations for offering a platform where all the members have the opportunity to create amazing new memories and experiences."
But what happens when you go back to your native country after years of living abroad? Old friends have moved on, your previous network fell apart, and you feel like you have to start all over again ... Don't fret, this period of readjustment also presents an opportunity for new beginnings and exciting adventures:
"I had no friends in my own country when I moved back to Brazil, to Rio de Janeiro. Then I found InterNations, and people from all over the world who shared the same interests. My most memorable event was a Jazz and Rock event at The Blue Note, where we spent the night celebrating friendship while watching two great concerts overlooking the Lagoon in Rio."
And with that, we come to the end of our 16 stories. A huge thanks to our lovely members for sharing these inspiring memories!
And last but not least, we want to express our sincere appreciation to our incredible team, our devoted Ambassadors and Consuls who play a vital role in nurturing our vibrant communities, and, of course, to all our beloved members who have been an integral part of our journey. Your support and commitment have made our collective experience truly special and meaningful.
Sweet sixteen, and here's to many more!
---
---
Article Topics