Christmas Dinners around the World
Christmas Dinners around the World
Looking for some festive culinary inspiration, or are you simply interested in what other nations serve up for their main Christmas meal? You may be surprised by the variety of dishes: from goat stew in Ghana to fried chicken in Japan, Christmas dinner is more than just turkey and Christmas pudding. Keep reading for more delicious dinners, and find out if your country is on the list!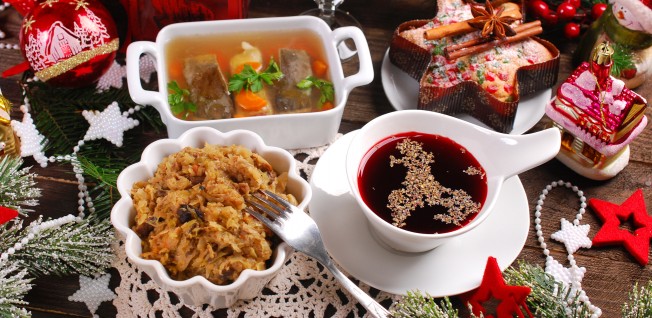 Poland — Waiting for the First Star
In Poland, the traditional meal is called Wigilia and eaten on Christmas Eve after night has fallen and the first star is seen in the sky. Beginning after the opłatek (Christmas wafer) has been shared, the Christmas meal consists of fish dishes (normally white fish), borscht (beetroot soup), and uszka (small dumplings filled with mushrooms or onions). In many parts of the country, twelve courses are served to symbolise the twelve months of the year or the twelve disciples of Jesus. Other dishes on the table may include rollmops (herring fillets) or sauerkraut; for dessert there is makowiec (poppy seed roll) and kołaczki (Christmas cookies, often made with cream cheese).
Japan — A Fried Chicken Celebration
In a successful 1970s marketing campaign, KFC presented themselves as the best venue for a Christmas dinner in Japan, and the idea took off. Now, it is necessary to order weeks in advance, and Christmas accounts for about a third of the chain's sales in Japan. The most popular options are the Kentucky Christmas Dinner packages, which range from a box of fried chicken for 32 USD to a premium roast chicken for 52 USD. Despite the commercialism, Christmas dinner is still seen as an occasion for family to get together and share a meal — it's just that they do it over fast food rather than home cooking!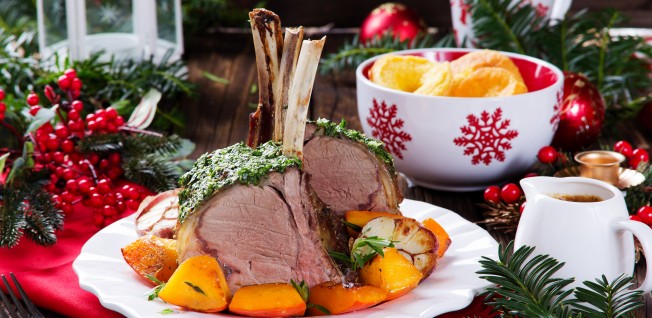 England — Original and Traditional
The English Christmas dinner has changed little since the 19th century and is typically served in the afternoon on Christmas Day. It consists of roast meat (mostly turkey, although some families prefer beef or goose), roasted potatoes, and boiled or steamed vegetables. For dessert, Christmas pudding (a dessert of boiled fruit held together by egg and suet) or trifle is often served. The meal is accompanied by Christmas crackers and Christmas paper crowns. Due to their colonial history, many countries around the world (such as the United States and New Zealand) celebrate Christmas with a similar meal, although they may add their own local touches, such as pumpkin pie in the US.
Ghana — Sharing Food Together
Christmas in Ghana is all about celebrating with your family and community, so naturally Christmas dinner is a big affair. A variety of dishes are served to suit everyone's taste: there is a meat stew (normally chicken or goat) alongside fufu (yam paste) and okra soup, accompanied by rice and a range of vegetables. The houses are adorned with colorful paper decorations to create a festive mood. For most people, the meal is served after they have attended a midday church service in their best clothes, and it is often shared with the poorer and less fortunate members of the community.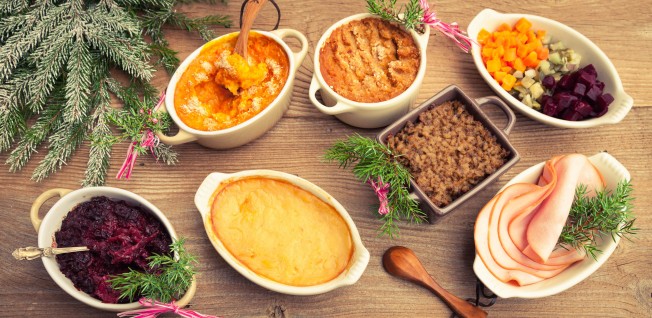 Finland — Salted Ham and Superstition
Christmas dinner in Finland is traditionally known as Joulupöytä (Yule table) and features an assortment of seasonal dishes, like root vegetables casserole and mixed beetroot salad. The star of the show, however, is the salted Christmas ham, baked in the oven and served with mustard. Afterwards, joulutorttu (Christmas tarts in the shape of a pinwheel and filled with prune jam) are passed around, and the meal is washed down with glögi (mulled wine). Some Finns view their Christmas dinner as a time for fortune-telling: rice porridge is often served as a dessert from a communal kettle, and it is customary to place a single almond in the pot. Whoever finds the almond is said to have good fortune in the year to come!
India — A Sweet Tooth
Only around two percent of the people in India celebrate Christmas, due to Christianity's status as a minority religion in the country, in comparison to Hinduism and Islam. However, as the nation's population is so huge, there are still around 28 million people looking forward to their yearly Christmas treats! Popular dishes include chicken or mutton curry, pork vindaloo, and Allahabadi cake (a rum fruit cake).
The tiny western state of Goa, where over a quarter of the population is Christian, is known for its festive traditions, which date back to the period of Portuguese (Catholic) rule. One key aspect of a Goan Christmas is kuswar (Christmas treats), of which there are a wide selection, like doce (a sweet made from chickpeas, coconut paste, and sugar) and kulkuls (sweet dough curls). For those looking for a more elaborate dessert, there is also bebinca, a seven-layered coconut cake. These dishes are so popular that they are eaten throughout the country.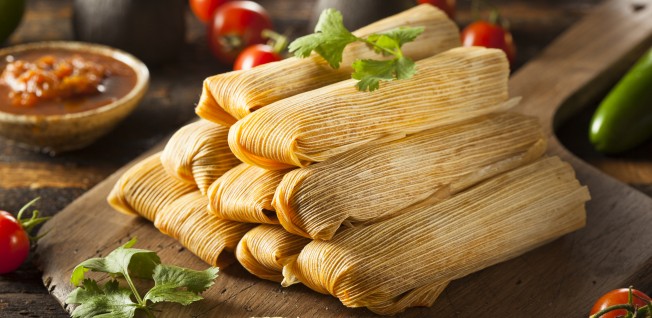 Mexico — A Midnight Feast
Christmas dinner in Mexico is eaten on Nochebuena, or the night of Christmas Eve, after attending the Misa de Gallo (Mass of the Rooster) around midnight. The main meal varies by region, but usually includes tamales (steamed cornmeal dumplings, filled with ground meat or beans and wrapped in cornhusks), bacalao (salted codfish), roast turkey, and menudo (tripe soup seasoned with chili peppers). Side dishes include rice and Christmas salad, which consists of seasonal fruits and vegetables. For dessert, buñuelos (deep-fried fritters dusted with cinnamon sugar and syrup) are served, and possibly a sweet version of tamales. Leftovers from this midnight feast can be used for the meal on Christmas Day.
Philippines — A Melting Pot of Influences
Due to the country's colonial history, the main Christmas meal in the Philippines is heavily influenced by Spanish traditions. It is celebrated after a midnight mass on Christmas Eve, also known as Nochebuena, like in many Spanish-speaking nations. The food is slightly different, however, with lechón (roasted suckling pig) or a Christmas ham often forming the focus of the meal. It is accompanied by fruit salad, queso de bola (Edam cheese in a red paraffin shell), and bibingka (coconut rice cake). Slightly more unusually, Filipino-style spaghetti is also often served, topped with hotdog slices and a sauce consisting of ketchup and brown sugar — don't knock it until you've tried it!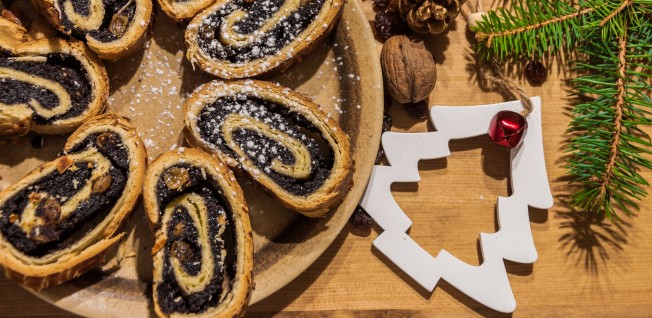 Hungary — Waiting for the Bells
In Hungary, Christmas dinner is eaten on Christmas Eve, just before the presents are delivered by Jézuska (Baby Jesus) and his angel helpers. It is customary to abstain from meat on this day, so the meal usually revolves around fish. This is mostly served in the form of halászlé (fisherman's soup, normally made with carp or another freshwater fish) and accompanied by stuffed cabbage with sour cream. The meal is followed by beigli (rolls filled with poppy seeds or ground walnuts) and gingerbread cookies, often made in the shape of Christmas figures. After the meal, children wait to hear the sound of bells ringing from their living room, which signals that the angels have finished decorating the Christmas tree and, most importantly, leaving presents underneath it!
Iceland — Full of Traditional Dishes
Just like in many other countries, the main Christmas meal in Iceland is eaten on Christmas Eve (known as Aðfangadagur). The meal usually revolves around hamborgarhryggur (a smoked rack of pork), although turkey is growing in popularity thanks to its international influence, and some families even serve reindeer. Side dishes include pickled red cabbage, brúnaðar kartöflur (caramelised potatoes), and laufabrauð (leaf bread), a wafer-thin fried bread carved with geometric patterns. The meal takes place around 18:00, when Christmas is considered to have officially started, and children can open their presents afterwards.
---
---
Article Topics