Expat Tips: Explore the City like a Tourist
Expat Tips: Explore the City like a Tourist
Once the excitement of a new job, a new neighborhood, and a new grocery shopping list wears off, it's easy for your "go get 'em" attitude to dwindle as the expat blues sets in. A top tip to combat these feelings and reignite your sense of adventure is to explore your city like a tourist. This gives you the opportunity to discover areas which aren't on your normal routes and hopefully find a few hidden gems along the way!
Pack Your Camera
We're living in a time when almost everyone has a high-quality camera just hiding in their back pocket. By this we mean the trusty smartphone! When you set out with the mindset of capturing something spectacular that day, your perspective changes. Why not try starting out with the intention of snapping a few great photos of your new home to send back to friends and family? You might start noticing more landmarks and see the beauty in something which you would have simply not recognized if you hadn't stopped for a moment. You can focus on people, nature, or buildings. Whatever interests you, you'll start seeing your surroundings through a different lens, in both senses of the word.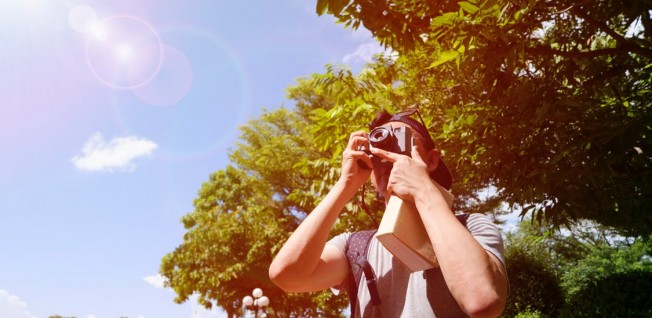 Get Lost
I don't mean this as an insult, more as a friendly piece of advice when it comes to new ways of exploring your city. Sometimes getting off at the wrong stop on public transit or having issues with navigation can lead you to areas which you have never stumbled upon before. Some of my favorite discoveries and "go-to" places to show off when people visit have been discovered as a result of low data and poor navigation skills on my part. However, this turned out to be a blessing in disguise. You pay attention to the little things when you're trying to find your way to a familiar path, and by default that leads you to appreciating your city even more. You can feel like a newbie in a town you've spent so long in, and discovering those hidden treasures is your reward!
Hit the Heights
Another great way to get a fresh perspective on your host town is to head into the clouds. Whether that means conquering a nearby mountain or scaling the tallest skyscraper in the city, the height often gives you a new outlook on things. You'll be able to recognize certain areas, pinpoint your house, and generally appreciate the beauty of a wide-open view that comes with climbing hundreds of stairs. An added bonus is that rooftop bars and cafés have become increasingly popular, so provided it's a sunny day, you might be able to enjoy a relaxing drink after the hard work of making it to the top!
Make a Night of It
Things come alive at night, and it can feel like the city is transformed from an ordinary landscape to a glittering mirage of possibilities. Whether you fancy grabbing drinks at a cute bar, trying a new cuisine, or spending a cozy evening watching a theater performance or comedy sketch, these experiences get you out of the house and are guaranteed to leave you feeling content and satisfied that you've left your comfort zone.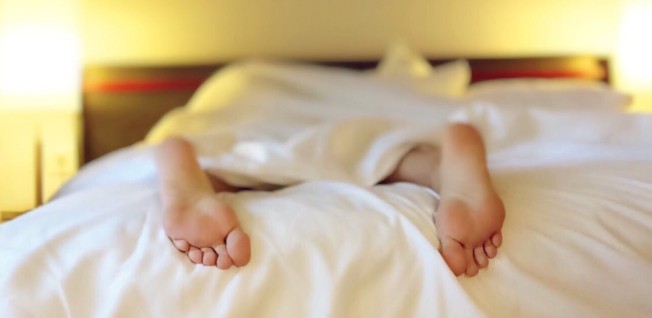 Get a Room!
If you're feeling extra fancy and need a change of scenery, you could even book yourself into a hotel room for the night. The novelty of having a bed with fresh sheets, a buffet breakfast, and a mini fridge doesn't seem to fade with age. Adding a little bit of luxury every now and then can make you feel like a tourist in a new place with an endless list of possibilities waiting for you to explore. Although this might seem extravagant, it does make a world of difference. Suddenly you are surrounded by people excited to wander the streets and see all that your host city has to offer. This feeling is infectious, and I guarantee after a peaceful night's sleep, you'll want to get up and go the next day — that is, after you've eaten your weight at the unlimited hotel breakfast buffet!
Take a Tour
Your host country is likely to be hiding an abundance of interesting historical information just waiting for you to discover. You might have even been walking past a historically significant site on your way to work without realizing it! That's why a local tour of your host town might be just what you need. These are offered in most cities across the world now and are an excellent source of background information you can use to wow guests when they come to stay. You also get to get a deeper understanding of where you're currently living and how generations have lived before you. In general, tours are a great way to reignite your enthusiasm for expat life. Whether it's a walking, bus, or boat tour, you're bound to discover some new sites you've never seen before and learn some fascinating or funny historical anecdotes.
To see the rest of this ongoing video series with our resident expat expert Lauren, visit our Facebook page. There you can share your feedback with us or even ask for advice — we may just use your question as the starting point for the next video!
---