Finding Love across the Globe
Finding Love across the Globe
Moving abroad at any point in your life can seem daunting, but moving for love can feel like a complete leap of faith. Uprooting your life and settling down in a new place is a massive change, even if it is your partner's home country, yet thousands move for love every year.
In fact, expats who move for love are less likely to want to move back home — 51% of those who moved for love plan to stay possibly forever, while among all expats, only 29% say the same. Close to 90% of expats moving for love are in a relationship with someone from the country which they have moved to, and 64% met their partner outside of their home country. Countries like France and Italy may come to mind when thinking of love and romance, however, according to the InterNations Expat Insider 2017 survey, it is the Nordic countries leading in love. Here is a list of the top destinations expats choose for love.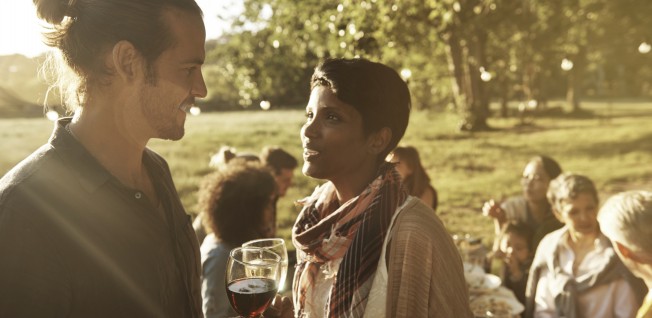 Finland
The Finnish may not be known for romance, with only 5% of respondents viewing the Finnish as emotional rather than rational people. Yet, they certainly appear to be doing something right: 70% of expats in a relationship in Finland have a local partner. Only 15% are with someone from the same country as them. A third of expats relocate to Finland for love, and it appears that most are happy with their move, as 90% of respondents state they are satisfied with their relationship. As an Australian expat put it: "What I like about Finland is that I can live peacefully with my partner."
Greece
When it comes to finding love, you can't go wrong with Greece. Almost six in every ten expats living in the country met their partner there (59%), and nearly two-fifths met their partner after moving to Greece. Perhaps it is the warm weather attracting romantics, as 96% of expats rate the climate and weather positively. Settling down does not appear to be too tricky either: close to three-quarters of all expats state they feel at home in the local culture.
Philippines
With great weather, good leisure options, and a low cost of living, the Philippines certainly has a lot to offer. Expats find it easy to make friends in the Philippines; unsurprisingly really, considering that almost every expat views the general Filipino population as friendly (91%). With such a warm welcome, its easy to see why half of the expats there don't ever want to leave. Satisfaction rates are also high, 78% say they are happy with their life the country. The same can be said about expats moving for love, as 59% say they could not be happier with their relationship.
Denmark
Like the Finnish, Danes are known to be rational and reserved people ­— around three-quarters of expats would describe them this way. This is not to say they don't love life though: a Portuguese expat found "Danes know how to enjoy the day to day". Satisfaction rates among expats couples in Denmark are relatively high, as 83% are content with their relationship. Expats appear to enjoy the Scandinavian pace of life: 32% are completely satisfied with their work-life balance compared to 19% globally. It seems you can't go wrong with a country that encourages coziness through their hygge culture.
Sweden
With outstanding healthcare, childcare, and leisure options, it's easy to see why expats moving to Sweden tend to be in it for the long run — two-fifths say they could stay indefinitely. Prior to moving to Sweden, expats consider the general living standards to be the biggest advantage, so perhaps love is just a bonus to a great expat life there. This is reflected in satisfaction levels among couples, as 88% say they are happy with their relationship.
Norway
Expats living in Norway can expat high incomes and good career prospects — 72% say they earn more in Norway than they would at home. However, it is not only the big salaries attracting expats. Close to a quarter of expats move to Norway for love (23%). Although most expats (74%) met their partner outside of Norway, 39% are in a relationship with a Norwegian.
Brazil
Not only do expats fall in love in Brazil, but they fall in love with Brazil. The country's warm welcome means that expats are mainly friends with locals (53%), and of those is a relationship, 65% are with someone from Brazil. As a British expat put it: "You feel alive here and can live extremely well." Life in the sunshine must be good, as close to a third of expats in Brazil say they could live there forever (31%).
Argentina
A move to Argentina appears to be a ticket to success for any couple. An impressive 93% of expats state they are happy with their relationship while living in Argentina, and more than half of the expats in a relationship have a local partner (56%). Many say that it is the friendly people that really enhance the Argentinian expat experience. Argentinians are said to be very emotional people — 78% of expats describe them this way, double the global average.
Ireland
Expats flock to Ireland in hope of some of that Irish luck. With just under a fifth of expats moving to Ireland for love (19%), and almost half in a relationship with a local (48%), it seems there is something to be said for the Irish charm. Expats find it easy to get used to the Irish culture: for a quarter of expats, it is extremely easy. Similarly, making local friends does not seem to be an issue, as the Irish have been described as "fantastically friendly" by an American expat.
Austria
With rolling hills and breathtaking architecture, it is easy to see the romance in Austria. It is not just the incredible scenery catching expats' eyes: nearly a third of expats in a relationship met their partner after moving to the country (32%). Although Austria ranks poorly for feeling at home in the local culture, more than half of expats say they want to stay for longer than five years, including 36% saying they could stay forever.
---
---
Article Topics