Going the Extra Mile: How InterNations Groups Make New Memories beyond Their Communities
Going the Extra Mile: How InterNations Groups Make New Memories beyond Their Communities
Not only are InterNations members making friends with other expats and global minds in their community, but we are also seeing people using our network to cross borders and reach out to members in other communities across the globe. Contacting other members when travelling to their local InterNations Community, as well as attending events and activities in other cities, are all great ways to explore your holiday destination, broaden your horizons, make new friends, and swap international stories with fellow expats and locals alike.
Over the last months we have seen some great activities hosted by Consuls all over the world, bringing members of their group to another community, going the extra mile to spread the InterNations spirit, and giving their members a truly international experience. We asked Patrick Watchi from Casablanca, and Lucie Teubner from Munich, to tell us about the travelling adventures that they recently shared with their groups.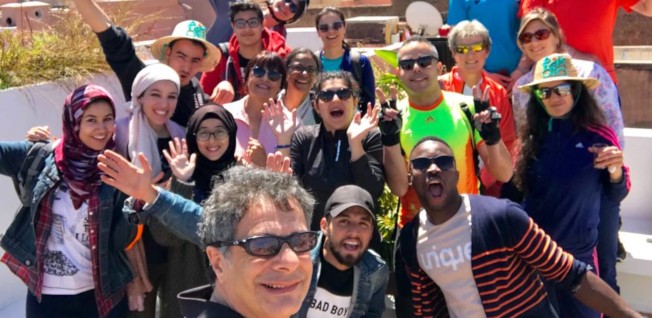 Tourism on Two Wheels in Morrocco
After a succesful cycling trip in Marrakech with his Casablanca Sports Group in 2017, Patrick decided to make the voyage again in April 2018. Having had such a great time with his group the year before, Patrick decided that this year he would also invite the Marrakech Adventures Group to join in the good fun!
Patrick collaborated with the Ambassador team in Marrakech, who not only agreed to take part in the activity, but also hosted their monthly event the night before the big ride. This gave Casablanca members the opportunity to meet and mingle with other members in Marrakech, and to relax and unwind before getting on the bike the next morning.
On the day of the activity, Patrick organized bike rentals for all 16 participants, and a professional guide took the group through the streets, discovering the rich history, beautiful architecture, and vivid heritage of Marrakech. Complete with plenty of coffee breaks and an open-air vegetarian lunch at a local restaurant, the group had the perfect day combining sport, socializing, making new friends, and exploring the city on two wheels.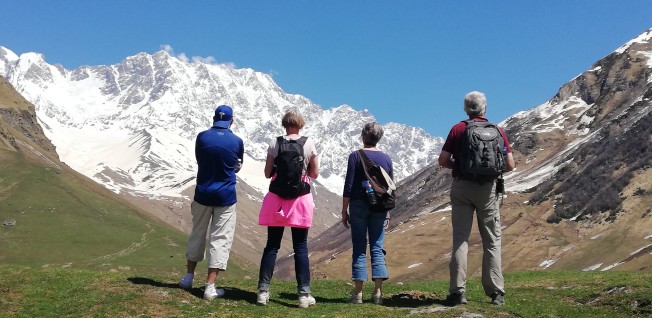 Wining and Dining in Georgia
Having developed a love for Georgia after visiting several times as a child, Lucie often takes her Friends Group to dine in Georgian restaurants across Munich. Members of the group love getting together over tasty cheese-filled bread, delicious soup dumplings, and fried eggplant rolls, enjoying the country's unique cuisine.
Wanting to do something a bit different and give her group members an experience to remember, Lucie organized a trip to the mountainous country, situated at the crossroads of Western Asia and Eastern Europe. There were 28 members who joined the trip to Georgia, which took place over eight days in May.
Their program involved visiting both large cities and smaller villages nestled into the mountains, as well as wine tastings and master classes to learn how to make some of their favourite Georgian dishes. A highlight of the adventure was meeting with the Tbilisi DinnerNations Group. Members from both communities enjoyed sharing tales on expat life and making new friends over a delicious Georgian meal.
---
---
Article Topics