Holiday Classics from around the World
Holiday Classics from around the World
During the festive season, there's nothing more appealing than sitting inside, cozy under a blanket, with a hot drink and a holiday classic on TV. We've rounded up a list of movies from across the globe for you to watch over Christmas and the New Year!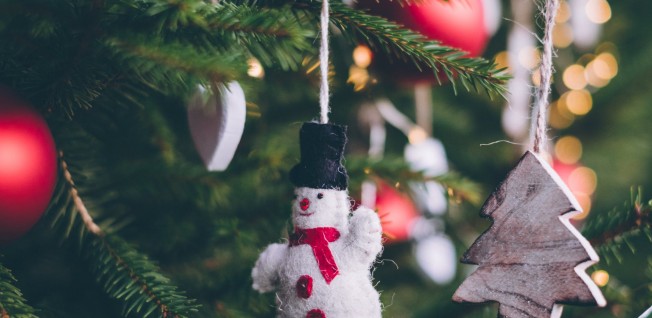 Cold and dark winter nights make the prospect of spending an evening at home watching a movie even more desirable. The options are endless, and it can be easy to pick your old favorites, but why not try a foreign Christmas favorite to get you into the joyous spirit? Of course, it can be hard to decide which one to watch, so here's a list of some international movies to enjoy over the festive period.
It's a Wonderful Life
The 1946 American Christmas film is a festive feel-good classic and considered one of the greatest films of all time. The black-and-white movie involves a man, named George, whose guardian angel shows him all the lives he has touched and what life would have been like had he never been born. The touching film lets you inevitably become emotionally invested in George and his family. As a sentimental movie brimming with classic lines and unforgettable moments, this is definitely one to watch.
Un Conte de Noël (A Christmas Tale)
The French comedy-drama film, released in 2008, tells the story of a dysfunctional family gathering for Christmas in France. The plot revolves around the mother of the family needing a bone marrow transplant in order to survive — only her alcoholic son and fragile grandson have the right blood type. There is an ongoing debate as to who will be the one to save her. The movie is praised for its realistic portrayal of the, at times, chaotic side of a family Christmas. While it can be tragic at times, the movie about this quirky family is filled with some light-hearted chuckles that will keep you in the Christmas spirit.
The Holiday
This well-known British-American romantic comedy released in 2006 features two unlucky-in-love women named Iris and Amanda. Although they're from opposite sides of the Atlantic Ocean, they decide to swap houses in order to escape their complicated lives over the Christmas period. The idyllic setting might make you want to take a trip to Surrey too, but unfortunately Iris's house, Rose Cottage Hill, is not actually real! Full of romance, charming characters and funny moments, the story of Iris and Amanda finding love abroad will make you want to spend next Christmas in a cute English cottage, too.
Fanny and Alexander
The 1982 period drama focuses on two siblings and their large family in Uppsala, Sweden. The wealthy family is first introduced at a big Christmas celebration. Following the death of the children's father, their mother remarries a very frightening member of the church, who is abusive towards the children. The events are seen through the eyes of the children, Fanny and Alexander, and revolve around Alexanders vivid imagination. Although the film has dark themes which will pull on your heartstrings, it is Sweden's favorite Christmas film and therefore, a must-see.
Joyeux Noel
The 2005 war drama is a powerful film which tells the true story of a temporary, improvised truce during Christmas of the first year of World War I, when soldiers lay down their weapons and join to sing carols together. A tear-jerker of a film which captures a joyful moment in the most unexpected of places. This is perhaps not the most obvious Christmas movie but definitely one to add to the list!
Tokyo Godfathers
This Japanese anime reinterpretation of the nativity story makes for a unique alternative to the more cliché festive movies. However, don't judge a book by its cover, as the movie is a surprisingly funny tale of friendship, family, and the desire to belong somewhere. The plot involves a group of homeless people in Tokyo stumbling across an abandoned baby on Christmas Eve. In this heartwarming story the group is tasked with returning the baby to its parents. A classic Christmas story of family values, it will not only give you a few teary-eyed moments but also make you laugh.
Miracle on 34th Street
The American Christmas film originally released in 1947, takes place between Thanksgiving and Christmas Day in New York City. In this Christmas classic, an old man going by the name of Kris Kringle works as Santa in a department store, and surprises customers and employees by claiming that he really is Santa Claus. This leads to a court case to determine his authenticity. Although the film is set during Christmas, it was originally released in May because producers believed that more people would go to the movies to see it during the summer. As a cheery festive film, it has now become an American Christmas favorite.
Love Actually
The British Christmas-themed romantic comedy film, released in 2003, looks at the different aspects of love through ten separate stories. The story begins five weeks before Christmas and is mainly set in London. It revolves around the personal relationships between the characters, and how they manage to overcome their difficulties or fall in love just in time for Christmas. Watched by millions across the UK, Love Actually is a cult classic. The opening and closing scenes of the movie feature real people reuniting with their loved ones at the airport, making the scenes a lot sweeter and more authentic. This truly heartfelt and charming movie which makes for a perfect, light-hearted watch over the Christmas period.
Alles ist Liebe (All Is Love)
Following the theme of love, the German film shows the relationship problems of men and women from the Frankfurt am Main area, as three days before Christmas, things are beginning to go south in terms of life and love. Reminiscent of the original Love Actually, the entertaining movie provides an honest account of the highs and lows of romance. Despite a few obligatory clichés, the film has a lot of heart and is an enchanting winter watch.
Dinner for One
There is one film that all Germans know and have developed a family tradition of watching every holiday season — Dinner for One. The comedy sketch was written by a Brit, recorded in 1963, and includes a short introduction in German. Movies are normally subtitled or dubbed with the viewer's language, yet Dinner for One is unique for being shown in its original English language version. The plot involves a butler, James, serving dinner to his employer, Miss Sophie, who is celebrating her 90th birthday. As her guests are absent, he has to toast in their place — by the end of the evening he is very drunk! Even though it's only 10 minutes long, it has been played on television more times than any other film in Germany and Austria, and it's Germany's most popular New Year's tradition.
---
---
Article Topics