How to Make the Most of Your New Life Abroad
How to Make the Most of Your New Life Abroad
Finding your way in a new country can feel a little overwhelming, and yet for many people it's an opportunity to test out new things, familiarize themselves with a different culture, and discover new places and friendships. Whether you're moving for work, love or to study — short term or long term — the prospect of moving to a new country is exciting. Once you've got your job set up and found a place to live, you might be wondering how you can make the most of your new life abroad. Here are a few tips to make the transition into your new country as smooth as possible!
Make New Friends
Friendships are a key element of living in a new place, and while it can take some time to get to know people, be patient and friendships will form. Smile at the person sitting across from you at the café or on the train. Take the initiative by asking your co-worker, neighbor, or a fellow expat if they want to get together sometime, or if they have any recommendations for things to do. In most cases you'll be surprised by how willing people are to help and how proud most people are of the place they call home. Finding a language tandem partner or taking part in volunteer work are also great ways to get to know people and becoming more involved in your community.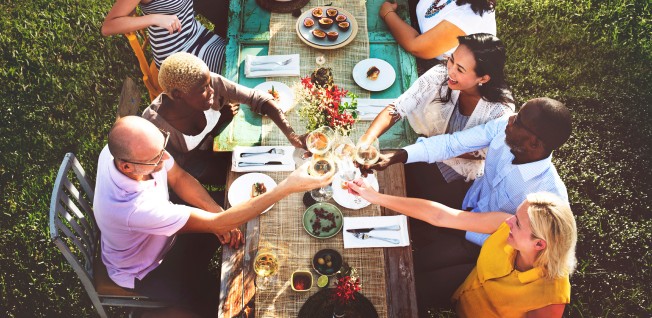 Perhaps a new friend will take you to a tea ceremony or a rice harvest festival. Perhaps they'll invite you on a day trip with their family, to a basketball game, or a pottery studio, or simply ask you to come over for homemade treats. Whatever you do together, return the favor and invite your new friends into your home and share some traditions from your home country with them. As people always say, friendship is a two-way street, not a one-way road.
New friends can bring out a new side of you, and surrounding yourself with people from different walks of life can challenge your ideas and mindset, and open up new perspectives.
Travel the World
"The world is a book and those who do not travel read only one page." (St. Augustine)
The beauty of travel is that your memories and experiences will likely last much longer than the new gadget that you just bought. The adventures, laughs, and memories made along the way are well worth it, no matter if you travel solo or with friends. Combine your travels with your interests: if you're into outdoor activities then a world of adventure awaits, with hiking, biking, and watersports — ask locals for recommendations of where to visit. If you are more culturally orientated then you might find museums, concerts, shopping opportunities, street markets, and pop-up events taking place in a city nearby . Local blogs can provide tips and insights for traveling on a budget and reveal a city's best-kept secrets.
Traveling allows you to immerse yourself in the local language and culture, and your friends will be impressed the next time you place your order in French at the bistro, or you dazzle them at the Asian restaurant with your impressive chopstick skills!
Try the Local Cuisine
Trying the local cuisine is a great way to blend in and to get to know your new home better. Local dishes are almost guaranteed to be fresher and tastier in their country of origin, and given that the ingredients haven't traveled half way around the world, they are also likely to be cheaper on your wallet. Aside from benefitting the environment by reducing your carbon footprint, buying and eating locally sourced foods can help to support your local economy and farmers, and encourage sustainable agriculture. You might discover new favorite dishes and vegetables you've never tried before — anyone for purple sweet potato ice cream?
Embrace New Experiences
Living in a new country is your opportunity to explore everything on offer. Visiting local markets and nearby places of interest is a great way to get to know the area better. Perhaps you're lucky enough to be in a capital city with skyscrapers and rooftop bars, or close to the coast where you can try out sports such as surfing or diving. Planning trips to coincide with cultural events is a great way to experience a new place and a new culture in one go — ever wanted to try dragon boat racing, sumo wrestling or visit a lantern festival? Make the most of the opportunities which open up to you, or which you may not be able to do as easily in your home country.
Appreciate Your Expat Life
With people constantly on the move, appreciate that you may not always stay in once place, and remember how lucky you are to have had the experiences you've had. Keep in touch with friends and family back home, send postcards and treats from your new country, and your friends might send you back whatever you're missing. And whenever you're ready to go back home, it's still there waiting for you — just watch out for the reverse culture shock!
---
---
Article Topics