Life Begins Where Familiarity Ends
Life Begins Where Familiarity Ends
InterNations has over 2.8 million members, each with their own reason for making the often difficult decision to move abroad. We wanted to hear more about what drove them to become an expat and modern-day pioneer.
This past month we asked our members to tell us their pioneering story — from the challenges they faced throughout the process, to how it changed them as a person. Many wonderful and heartwarming stories were shared with us, and our Anniversary Committee faced the difficult task of narrowing it down to the ten below. While each story is unique, many of you had similar doubts before moving abroad and faced the same hardships once you arrived.
"Change is always scary so it's easy to come up with several very good reasons why not to move." – Lorena
Before any of our finalists could actually live abroad, they all had to make the decision to move. For almost all of them, there were big reasons not to go: parents with failing health, personal health issues, beloved pets, career uncertainty and lack of funds. Yet each person decided to make the move, whether to create a better life, fulfill a thirst for adventure, or be closer to a partner.
"The biggest reason was that I had no idea how I'd support myself – I hadn't planned to leave, so I hadn't saved up." – Rachel Eve
Once they arrived abroad, other challenges arose. Missing family and friends was common, as were feelings of loneliness and isolation. Not surprisingly, culture shock and language barriers were big problems, and made important tasks like finding a place to live or navigating public transportation difficult. One of our finalists moved quite often, which meant regularly leaving good friends and partners behind. Another faced an incredibly difficult time when a parent passed away shortly after moving abroad, but found that trying to adjust to a new culture helped to divert his mind and made him feel productive.
"The hardest part is no doubt loneliness, especially in the beginning. But I see that as an opportunity." – Lorena
We were curious to hear why each of them had decided to join InterNations! Many joined to find a community of people that had been through a similar experience, and could offer support and understanding. Some were also interested in meeting people from their home countries, as well as people from around the world who could offer a different perspective. It's incredibly hard to arrive in a new place and face the unknown, but finding a friendly face at an InterNations event or activity helped many of them.
"We joined InterNations as we began to consider moving from our little olive farm in southern Italy to Kuala Lumpur, Malaysia, knowing that the real-life experiences of others could prepare us for what we were about to undertake." – Scott
As those of us who have lived abroad know very well, living abroad changes you as a person. In fact, one of our finalists even wrote a book on how he has changed since making the move! Having new opportunities and meeting people from around the world led our respondents to form different perspectives and generally become more open-minded and accepting of different people and lifestyles. It also made them become more self-reliant and helped them to enjoy life more overall!
"Living abroad has definitely made me more patient, understanding and accepting of different cultures and people." – Patrick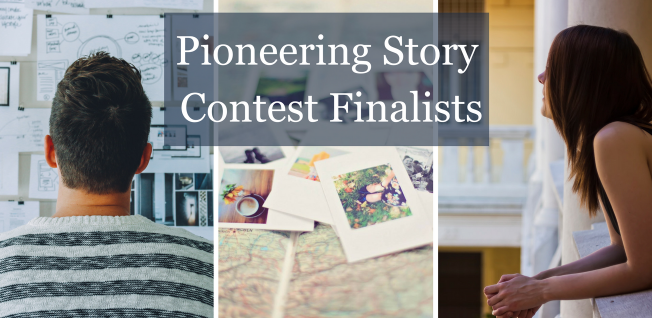 As each of our finalists are experts at living abroad in their own way, we asked them to share their advice with potential pioneers who are considering moving abroad.
Here are some of our favorite tips:
Scott: My advice would be, "Don't do it!" Don't do it unless you're prepared to learn something about yourself, perhaps something you really don't want to know. But, if you suffer from incurable curiosity, insatiable wanderlust, and a thirst for discomfort, then, by all and any means, harness your pioneering spirit and put it to work in some unfamiliar environment and test your mettle.
Jo: On a practical level, I would suggest accepting any assistance to smooth your transition to your new community. The administrative challenges were unfounded for us, and awareness of the processes and timeline would have eased our initial frustrations.
Jim: My message is that if you really want to do something, you can. The whole world is available to explore, to learn from and experience mind-opening and even life-changing perspectives.
Patrick: Do your research first by reading books, watching videos and possibly visiting the country you're considering. Also, talk to people that have lived where you're considering and get advice and suggestions about their routine day to day life, housing, making friends, food, etc. ...
Lorena: If you do move, respect your new country's culture and work hard to become an integral part of your new community. But at the same time try to keep the connection to your country of origin by visiting regularly.
Maulik: Every person must step out of the proverbial 'comfort zone'. There is so much strength in each one of us and yet there are those imaginary ropes that hold us back. Breaking them is the first step.
Rachel Eve: For those who want to, but are afraid: Examine your resistance. If you want something enough, you can always find a creative solution. But to balance that, I'd say to anyone who thinks it'll be easy: it won't be. However, the experience will change you in many ways, and the learning opportunities alone are priceless.
Sam: Have a goal, stay focused, don't give up, be kind, and believe in yourself.
Michelle: Do the research concerning the country and its regions, the culture, and the laws; weigh the pros and cons (particularly the cons!) BEFORE making the move; and have a back-up in the event of a worst-case scenario!
Jérôme: Do connect with local people and expats on social networks in order to get some information and feedback. It is always valuable to get people to share their experiences and stories.
---
Article Topics