The Happiness Survey 2020 Results Are In
The Happiness Survey 2020 Results Are In
Our vibrant international community is represented in 420 cities across the globe. Last year, our more than 6,900 Ambassadors and Consuls, the backbone of our community life, organized on average 5,175 in-person events and activities per month. They have helped us fulfill our mission of keeping people connected and making expat life a great experience — even during times of social distancing, creating more than 7,500 online events and activities thus far.
In order to learn more about the experience of our Ambassadors and Consuls, we have conducted the Happiness Survey since 2018, asking about their motivation and recognition they've received, how much they identify with the InterNations mission and vision, the support and communication with Munich headquarters, and the community and team spirit in their communities.
While we have conducted this survey every year since 2018, we decided to add some questions on the online events in 2020 to find out more about how our Ambassadors and Consuls have experienced this new event format.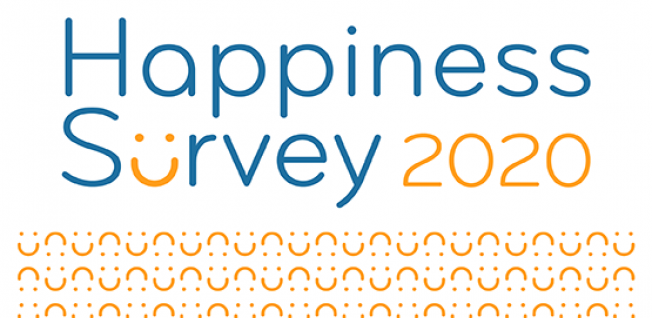 Although we achieved an overall Happiness Index of 76%, the results of the 2020 Happiness Survey show that there are still a lot of areas where we can improve, and we are already implementing many of our Ambassadors' and Consuls' suggestions. We are feeling positive and hopeful that together we can strengthen our global community — the future looks bright!
Want to find out more? Read on to see the results of this year's Happiness Survey!
Survey Findings
According to the Happiness Survey 2020, InterNations Ambassadors and Consuls largely feel at home in their respective communities and enjoy the team spirit there. In fact, 83% of all respondents feel quite welcome in their communities. They also enjoy the different opportunities for collaboration and exchange with other expats and global minds in the same role.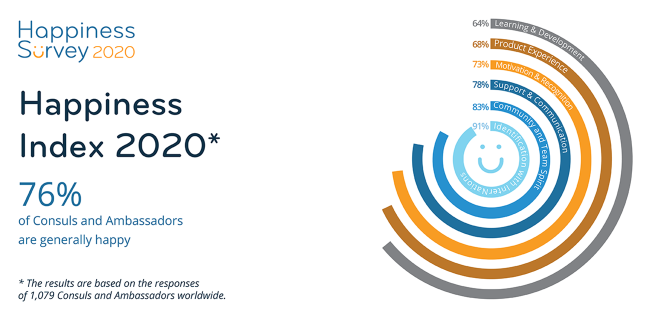 Moreover, 73% of respondents are happy in their roles and satisfied with the personal value, benefits, and recognition they get from being Ambassadors and Consuls. Close to four in five of those who participated in the survey (78%) are highly satisfied with the quality and helpfulness of the everyday support and communication they receive from InterNations headquarters. Moreover, the majority think that this support and feedback are provided in a timely and friendly manner.
However, only 64% of the respondents feel that the learning and support materials we provide are helpful. Going forward, we will use the feedback and suggestions we have received from our Ambassadors and Consuls to improve the materials we provide and to help them grow and develop further in their roles.
Although 82% of respondents are very satisfied with their experience with the InterNations website, only 53% share the same opinion when it comes to the InterNations app. We really value this feedback as we work to improve our product and make the overall experience a lot better.
Online Events
In 2020, we also introduced online events in our communities around the world. What initially started to give our members the opportunity to connect during the COVID-19 pandemic when meeting in person was (and in some communities still is) impossible, has turned into an opportunity to socialize across communities.
Naturally, we were curious to find out how our Ambassadors and Consuls felt about this new event and activity format.
While social distancing measures were in place, 69% said they were willing to connect with others and 71% hosted, or were planning to host, online get-togethers. Close to 6 out of 10 plan to continue to organize them in the future, and a similar number have sought interaction with people from other InterNations Communities. Given how much our members have enjoyed venturing beyond the physical boundaries of their communities and connecting with fellow expats and global minds around the world, we hope we will find a way to continue on this path together.
Why We Do This
We are incredibly grateful to our Ambassadors and Consuls for their creativity and for the way they have supported and continue to support our communities around the world.
It takes a lot of time and energy to prepare what will eventually turn out to be a delightful get-together at a nice location — whether it is a fun activity enjoying the great outdoors, an inspiring "coffee talk" at a cool venue, or a big official event. And, even in the middle of this hustle and bustle, Ambassadors and Consuls make sure that everyone feels at ease and has a memorable experience.
To help them in their roles as leaders in their communities, we strive to ensure that our Ambassadors and Consuls feel supported, that they feel confident in their role, and that they feel recognized for their impact and contributions.
With an overall Happiness Index of 76%, we are glad that our Ambassadors and Consuls generally feel supported and that they are happy in their roles at InterNations. We will, however, take all the feedback we received into account and continue to make improvements — not only to ensure a better community experience but to acknowledge the time and dedication of our Ambassadors and Consuls.
We are always looking for more people to get involved and we invite those who are interested to become a Consul in their community!
---
Article Topics