Expat Insider Business Edition Reveals: Companies Do Not Meet the Needs of Their Relocating Employees
A new survey report by InterNations provides insights into needed and provided support when moving abroad for work.
37 percent of expats move abroad for their own or their partner's work, which is the most-cited reason for relocating in the Expat Insider 2018 survey: 10 percent are sent abroad by their employer, 19 percent work for a new company abroad, and 8 percent follow their partner.
Despite the growing need for international talent, most companies do not offer the support that relocating employees desire.
InterNations Business Solutions publishes the first Expat Insider Business Edition to close the gap between the needs of relocating employees and the support provided by their employers.
Munich, 30 October 2018 — For the first time in five years of conducting the Expat Insider survey, InterNations publishes a business edition to provide a new perspective on global talent mobility. The Expat Insider Business Edition focuses on three types of expats, based on their primary motivation for moving abroad: Foreign Assignees (sent abroad by their employer), International Hires (hired by a company abroad), and Relocating Spouses (moved abroad with their partner). Together, they represent 37 percent of expats worldwide, making work-related reasons the most-cited motivation for moving abroad. While each expat type is different, they have similar issues and needs when moving abroad. However, those are not always taken care of by their employers: while companies mostly focus on systematic support such as moving services and lump-sum payments, relocating employees and their partners long for networking and socializing options.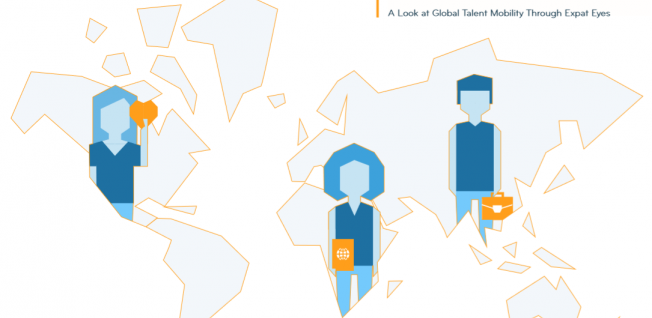 The Expat Insider 2018 Business Edition is published by InterNations Business Solutions, a new InterNations division, which supports companies with global assignments and international recruiting worldwide. "With our study, we want to raise awareness for the fact that the greatest needs of international employees and their partners are not yet fully met by the companies who sent them abroad or hired them in first place," says Theresa Häfner, Division Head of InterNations Business Solutions and director of the study. The business edition is based on the Expat Insider 2018 survey, one of the world's most extensive expat studies with more than 18,000 respondents living and working abroad.
What Relocating Employees Get: Moving Services and Lump-Sum Payments
While some companies have been providing relocation support for many years, there is still a great difference between the needs relocating employees have and the support offered. The most commonly offered services for relocating employees and their partners are moving support and lump-sum payments. Exactly three-quarters of Foreign Assignees (75%) state that they have received the first, followed by 54 percent of Relocating Spouses, and 43 percent of International Hires. "I like that my housing arrangements were supported by my company," says an US American Foreign Assignee living in China. The same is true regarding the lump-sum payment, which was received by 65 percent of Foreign Assignees, 50 percent of Relocating Spouses, but just 36 percent of International Hires — however, close to half of the International Hires (49%) state that they would have liked this kind of support.
What Relocating Employees Need: Social Integration and a Feeling of Belonging
While many expats do receive basic logistical support, the survey results show that there is also a need for access to local networking and socializing options as well as the membership in an expat organization. More than three in five Foreign Assignees (61%) and International Hires (62%) and even close to seven in ten Relocating Spouses (68%) are not offered any networking opportunities by their (partner's) employer, but state that they would have liked it. "There are no networking opportunities and it feels like social isolation," confirms a Russian Relocating Spouse living in Germany. Membership in an expat organization is the least common support provided by employers (just 8% for each type), but 63 percent of International Hires, 64 percent of Foreign Assignees, and 67 percent of Relocating Spouses did not receive it but think it would have been useful for them.
"When foreign assignees or international hires go through a relocation, they leave their friends, support network, and professional contacts behind. A large number of expats are obviously struggling to re-build their social network abroad," explains Theresa Häfner. "This process does not happen by itself, it requires active involvement from employers."
In fact, building a social network is one of the toughest challenges when moving abroad — and it is even harder for those who move for their own or their partner's work: about three in ten Foreign Assignees (29%), International Hires (30%), and Relocating Spouses (32%) find it hard to make new friends abroad, which is above the average of all expats surveyed (25%). "I do not like not having real close friends," shares a Lebanese Relocating Spouse living in Kuwait, and a US American International Hire living in Switzerland agrees: "I miss my friends and do not have anybody I am close to here. It is very lonely." This might be one of the reasons why 23 percent of Foreign Assignees and 26 percent of both International Hires and Relocating Spouses do not yet feel at home in their new country of residence.
Lonely Expats Are Unhappy with Their Life
The Expat Insider 2018 Business Edition clearly shows a connection between expats' lack of social integration and their level of happiness: 59 percent of both Foreign Assignees and International Hires who say that they are unhappy with their life in general state that a lack of socializing options is one reason for their unhappiness. "Socializing is definitely hard," states a Portuguese Foreign Assignee living in Ireland, "I do not have much of a social life outside of work". In fact, another 45 percent of both expat types name the lack of a personal support network abroad as a reason for their unhappiness. For Relocating Spouses, the shares are 47 percent and 51 percent, respectively.
About the InterNations Expat Insider 2018 Business Edition
Expat Insider is one of the world's largest and most comprehensive surveys on life abroad. It takes a look at the world through expat eyes in the form of an overall ranking of common expat destinations and additional information on life abroad. In 2018, a total of 18,135 expats from across the globe took part in the survey. They represent 178 nationalities and are living in 187 countries or territories.
The new Expat Insider Business Edition looks at global talent mobility through expat eyes on a global level. Therefore, the business report focuses specifically on the following three expat types: Foreign Assignees (respondents that were sent abroad by their employer), International Hires (respondents that were recruited by a local company), and Relocating Spouses (respondents that moved abroad together with their partner). The report also focuses on these expat types during various periods of their stay abroad and looks at those with dependent children. The following core chapters are focused on: Relocation Support, Ease of Settling In, Happiness, and A Glance at Family Life.
About InterNations Business Solutions
InterNations Business Solutions was recently launched by InterNations, the world's largest network for professionals living and working abroad with 3.3 million members and 420 communities worldwide. The goal of the new division is to develop B2B solutions for global employers. The solutions enable companies to improve the success of foreign assignments and to boost their employer attractiveness to top international talent. InterNations Business Solutions regularly provides insights about global talent mobility.
Find more information about InterNations Business Solutions on XING, LinkedIn and on the division website.
Downloads
About InterNations
With more than 4.8 million members in 420 cities around the world, InterNations is the largest global community and a source of information for people who live and work abroad. InterNations offers global and local networking and socializing, both online and face to face. At around 6,000 events and activities per month, expatriates have the opportunity to meet other global minds. Online services include discussion forums and helpful articles with personal expat experiences, tips, and information about life abroad. Membership is by approval only to ensure we remain a community of trust. InterNations is part of the New Work SE, a group of brands that offer products and services for a better working life.
Find more information about InterNations on our press page, in our company blog, or in our magazine.
Press Contact