Expats Rank Melbourne Top City — with Sydney Close Behind
A satisfying work-life balance in Melbourne and Sydney makes up for poor personal finance
Munich, 15 November 2016 — Melbourne tops the list of the best cities to live abroad according to previously unreleased data from the third annual InterNations Expat Insider 2016 survey. With more than 14,000 respondents, it is one of the most extensive studies ever conducted to explore the general living situation of expatriates. This year, Melbourne ranks as the top expat city, with Sydney also making it into the top ten on eighth place. The latest InterNations survey found that despite negative feelings about affordability, the warm weather and the friendly attitude of the local residents, combined with a great work-life balance, make Melbourne and Sydney top destinations for moving abroad.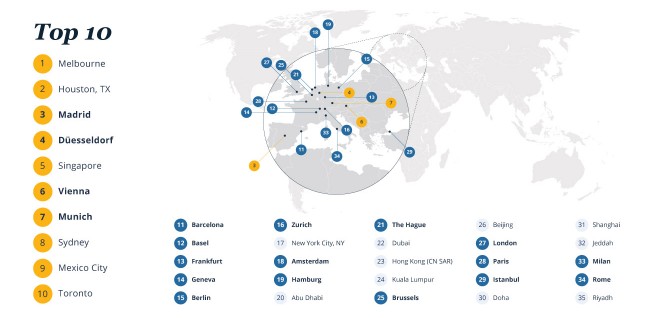 Melbourne, Houston, Madrid: Top Scorers for Expats
As part of the Expat Insider 2016 survey, InterNations takes a closer look at cities around the world and ranks them according to such factors as the quality of life, personal finance, working abroad, and settling in. Melbourne takes the top spot for expat life out of the 35 cities analyzed. Expats in Australia's second-most populous city are particularly pleased with their work-life balance: 79 percent of respondents rate this positively, which is notably higher than the global average of 60 percent. Overall job satisfaction in Melbourne is also above average, with 71 percent rating this factor positively. This city down under also excels when it comes to the availability of leisure activities: an astounding 91 percent rate this aspect positively, 19 percentage points higher than the global average of 72 percent.
Houston, Texas, finds itself in second place overall and for general satisfaction among expats. The United States of America's fourth-biggest city also excels when it comes to the cost of living and personal finance, ranking fifth and seventh, respectively, in both of these categories. Houston comes in first place in the Ease of Settling In Index, too. However, the data was collected before the US presidential elections: it is yet to be seen if the election results will have an impact on such ranking categories as "Friendliness" or "Feeling Welcome", which the Ease of Settling In Index is based on.
Madrid ranks third overall, mainly due to expats feeling welcome there and finding it easy to make friends: the Spanish capital takes the top spot in both of these categories. Madrid is also appreciated for its comparatively low cost of living: 72 percent of expats rate this factor positively, in comparison to the 49 percent global average. Duesseldorf, Germany, and Singapore round out the top five best cities for living abroad.
A Satisfying Work-Life Balance
Overall, expats in Australia rank the country as the tenth-best destination out of 67 in the Working Abroad Index. The majority of expats feels happy with their work-life balance, as 71 percent say they are content with this aspect of life abroad. So it is no surprise that both Melbourne and Sydney do well for work-life balance. Melbourne takes first position out of 35 cities worldwide, with 79 percent of respondents saying that they are satisfied with their work-life balance. While the respective figure for Sydney is significantly lower at 69 percent, this result is still noticeably above the global average of 60 percent. Expats also find that there is an abundance of leisure options for their time off from work — Sydney and Melbourne rank third and fourth respectively in the Leisure Options subcategory of the Quality of Life Index.
Warm Weather and a Warm Welcome
The satisfaction of work-life balance in these two cities and the great leisure options are accompanied by glorious weather: 75 percent of the expats living in Melbourne rate the weather positively, and an astoundingly high 91 percent of respondents in Sydney are happy with the local weather. Both Sydney and Melbourne rank highly in the Ease of Settling In Index, too, placing ninth and fifth respectively. Melbourne also ranks fifth for feeling welcome and fourth for friendliness; Sydney follows not far behind, ranking seventh in both subcategories.
The warm welcome in these cities is not surprising as more than seven out of ten of expats living in Australia (71 percent) say they are happy with the friendly attitude towards foreign residents. The local figure for Sydney is exactly the same while Melbourne even tops it with an impressive 83 percent. In fact, 30 percent of all respondents in Australia are so happy with their lives that they have obtained the citizenship of their destination, noticeably more than the global average of 11 percent
Expats Happier in Melbourne
Sydney and Melbourne differ most significantly in two key areas; personal happiness and personal finance. Melbourne ranks fifth for personal happiness in stark contrast to Sydney, which ranks much lower on 15th place out of 35. In Melbourne 19 percent of respondent's rate their overall happiness as 'very happy' and only 5 percent respond negatively. In contrast only 9 percent of respondents in Sydney say they are 'very happy' while 7 percent respond negatively.
Not only are expats apparently happier in Melbourne, but they are more satisfied with their personal finances, too. Melbourne comes in on an average 14th place in the Personal Finance Index, whereas Sydney does far worse: ranking 30th out of 35 cities, it appears in the bottom 5. In Sydney, only 53 percent of respondents feel positive about their financial situation, which is considerably lower than the global average of 64 percent.
Find more InterNations Expat Insider 2016 rankings, reports and infographics on www.internations.org/expat-insider.
About the InterNations Expat Insider 2016 City Ranking
For its annual Expat Insider survey, InterNations asked about 14,300 expatriates representing 174 nationalities and living in 191 countries or territories to rate and provide information on various aspects of expat life, as well as their gender, age, and nationality. For the first time in three years running, survey respondents were also invited to share, which city of residence they are currently living in.
Based on this information, a list of cities qualifying for this ranking emerged. For a city to be featured in the league table, a sample size of at least 50 survey participants per city was required. In total, the responses used for the city ranking represent 4,096 expats living in 35 destinations and 22 countries or territories in the Americas, the Asia-Pacific region, Europe, and the Middle East.
Participants were asked to rate more than 30 different aspects of life abroad on a scale of one to seven. The rating process emphasized the respondents' personal satisfaction with these aspects and considered both emotional topics as well as more factual aspects with equal weight. The respondents' ratings of the individual factors were then bundled in various combinations for a total of 12 subcategories, and their mean values were used to draw up several topical indices: Quality of Life, Ease of Settling In, Working Abroad, Personal Finance, and Cost of Living. These were further averaged in order to rank 35 cities worldwide. In 2016, the top five were Melbourne, Houston, Madrid, Duesseldorf, and Singapore.
About InterNations
With more than 4.8 million members in 420 cities around the world, InterNations is the largest global community and a source of information for people who live and work abroad. InterNations offers global and local networking and socializing, both online and face to face. At around 6,000 events and activities per month, expatriates have the opportunity to meet other global minds. Online services include discussion forums and helpful articles with personal expat experiences, tips, and information about life abroad. Membership is by approval only to ensure we remain a community of trust. InterNations is part of the New Work SE, a group of brands that offer products and services for a better working life.
Find more information about InterNations on our press page, in our company blog, or in our magazine.
Press Contact